Now virtually treating families in Colorado, Hawaii, Indiana, Iowa, Louisiana, New Jersey, New York, North Carolina, North Dakota, Tennessee, and Texas!
Novel coronavirus is a type of virus that causes cold-like symptoms.
All colds are caused by viruses, and have names such as rhinovirus, adenovirus, parainfluenza, and coronavirus. Although coronavirus is a type of cold virus that causes an upper respiratory illness like most colds, a new, or "novel," version of coronavirus began causing a respiratory illness that is sometimes worse than a cold. This new illness is called COVID-19 and has recently spread to the United States from China and other countries.
Since COVID-19 is new, it means that many people are likely to become infected with it. Our immune systems don't know how to fight it very well yet. Most people with COVID-19 will have mild symptoms similar to a cold, but it is possible in rare cases to have severe illness requiring hospitalization. Just like all colds, this new version of coronavirus cannot be treated with antibiotics. The main things that can help while recovering at home are fever reducers, fluids, and rest.
If there are concerns that your child may currently have COVID-19 or may have been exposed to it and you need testing, we can see your child in-person or via video visit.
Symptoms
People who should be tested for the new strain of coronavirus include:
People who may have had exposure in the last 14 days AND have symptoms including fever, cough, or trouble breathing.
The symptoms of COVID-19 can be similar to other conditions such as flu, colds, and allergies, comparing what happens with each of those conditions can be helpful:
At this time, community spread of the virus that causes COVID-19 has become extensive and testing is recommended for people who have symptoms and for people who have had close contact with a known/suspected case.
Close contact is defined as having been within 6 feet of an infected person for a total of 15 minutes over a 24 hour period.
Anyone who has been in close contact with a known/suspected case should also quarantine for 14 days, even if there are no symptoms, because the illness can develop any time between 2 and 14 days after exposure.
What Happens After I Get a Test?
Testing helps to identify people who are currently contagious with the virus that causes COVID-19, but a negative test does not always mean the illness will not develop within the 14-day period after exposure. It can take up to two weeks after exposure for illness to develop, so a quarantine period of 14-days after being exposed is needed. Talk with your healthcare provider about what steps to take to keep yourself, your family, and the community safe from this virus if you have been exposed.
For people whose test results are positive, a 10-day isolation is necessary so that no one else is at risk of becoming sick. Minimizing exposure to others is the most important way to stop the spread of COVID-19. Most people recover within that 10-day period and start to feel better, but anyone with worsening symptoms should seek medical care.
With schools and businesses reopening, more people are at risk of exposure and testing is an important part of keeping infection levels low so that we can all safely return to as many activities as possible. Identifying anyone at risk of spreading the virus through testing along with having exposed people quarantine until the risk of infection has passed will keep us all safe and healthy.
Treatment
The treatment for the new strain of coronavirus is the same as any other cold—fever control, increasing fluids, and rest. There are no medications that specifically treat cold viruses. Our immune systems will fight these viruses.
Any concern for complications from a cold virus such as difficulty breathing, dehydration, extreme fatigue, or prolonged high fever should be evaluated by a healthcare professional.
If you believe your child may have novel coronavirus or may have been exposed, please see us in one of our clinics or via video visit for evaluation and testing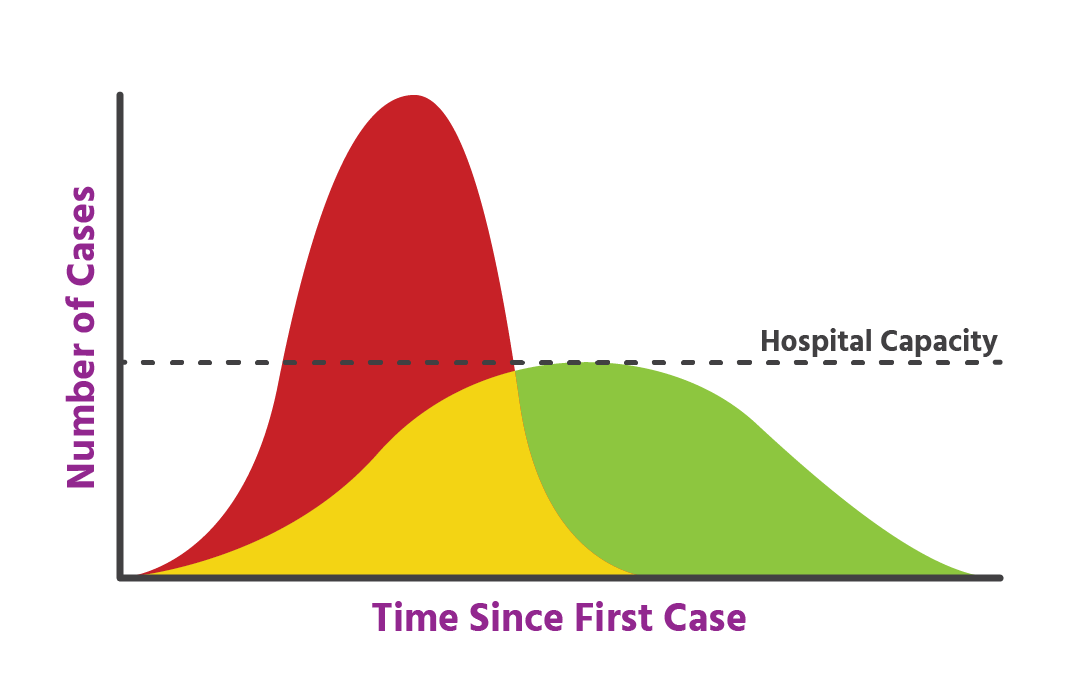 Without social distancing, confirmed COVID-19 cases will increase exponentially, eventually crossing our hospital capacity threshold.
According to the CDC, the incubation period after exposure to the novel coronavirus can range from 2–14 days, and it is possible to still transfer the virus even if you aren't showing symptoms. Social distancing is important because you could be spreading the virus without even knowing you have been infected.
The Washington Post (link below) has created simple animations to visually represent how social distancing can affect the population.
Prevention
Washing hands with soap and water for at least 20 seconds throughout the day, especially when there has been contact with people in public. Alcohol gel can be used if hand washing is not possible, but washing is best.
Stay home when there are signs of illness such as fever, cough, or runny nose.
Cough into the bend of the elbow instead of hands.
Avoid touching your face—illnesses can find their way into your body through eyes, nose, and mouth.
Wear a mask (over your nose and mouth) to protect yourself and others.
Eat healthy foods and make sure all family members are getting enough sleep.