We are excited to announce that we are hosting our first annual Childhood Health Day on Saturday, October 15 in Round Rock!  This family-friendly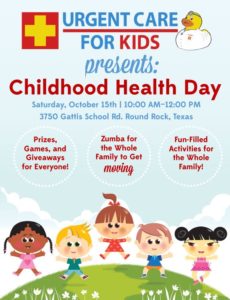 event will feature games, local vendors, and entertainment, while focusing on teaching kids and their families about living a healthy lifestyle.
"October is Childhood Health Month, and we really just wanted to take a day to not only celebrate healthy lifestyles, but educate the community on what that looks like and why it's important to begin practicing healthy habits at a young age," said Tomi Fanning, Marketing Director. "We're excited to have so many community members partner with us to help spread that message!"
The event will offer many activities for kids and parents alike, including Zumba with Crystal Gayle, hula hoop contests, and a mini obstacle course. HEB, Austin Expecting, Parenters, Camp Gladiator, Taste and See Baby Food, and Ready Go Swim, Christine CPR, Macaroni Kids, and Children's Courtyard are a few of the sponsors who will be present. Additionally, Austin Life Chiropractic will be offering free spinal screenings.
The event will be held on Saturday October 15th from 10am-12pm, at Urgent Care for Kids' East Round Rock location, 3750 Gattis School Road, Round Rock TX, 78664. We hope to see you there!