In this week's edition of Urgent Care for Kids Fast Facts, we are giving our DFW patients a chance to learn more about our McKinney clinic!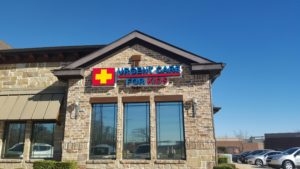 McKinney Fast Facts
Our McKinney clinic was the eighth Urgent Care for Kids location to open, opening its doors on September 10, 2014.
Conveniently located at the corner of Highway 380 and North Lake Forest Drive, Urgent Care for Kids McKinney is easy to find and serves families in McKinney, Allen, Frisco, Garland, Plano, Melissa, Prosper, and the surrounding areas. 
On September 1, 2015, we relocated from our original Virginia Parkway location to our current building on Lake Forest Drive, making McKinney the first Urgent Care for Kids clinic to have had two physical locations.
Our McKinney clinic accepts most major commercial insurance plans including Aetna, Blue Cross Blue Shield, Tricare, Cigna, United Healthcare, and more, and also accepts any Texas Medicaid and CHIP plans.
We share a building with McKinney Pediatrics, making our McKinney clinic the only Urgent Care for Kids clinic to share a space with primary care physicians. We highly recommend the providers at McKinney Pediatrics for continuous care for your little ones!
Like all of our clinics, our McKinney clinic is equipped with an x-ray machine and lab testing, to ensure a quick and correct diagnosis for each patient. We are also able to treat minor lacerations, sprains, and sick visits.
Urgent Care for Kids McKinney is one of two Urgent Care for Kids clinics in DFW. Our other area clinic is in Keller.
As in each Urgent Care for Kids location, our McKinney clinic has a spacious waiting area with cheerful, kid-friendly decor and plenty of toys to keep little ones busy. We also have six exam rooms in order to maximize the number of patients we're able to see and minimize wait times.
Our McKinney staff is excellent and has years of experience. Our office manager Dianne has 41 years of pediatric nursing experience, and helps keep our clinic running smoothly and efficiently.
Each of our clinics provides exceptional medical care to each of our pediatric patients, along with outstanding customer service to each family we see, and our Katy clinic is no exception to that. We are proud to serve  the greater Houston area, and if you would like to learn more about our Woodlands site, you can stop by for a tour, or give us a call.