Wait what? What's that you say? National Rubber Ducky Day ended two days ago? You wouldn't know it thanks to the Urgent Care for Kids family. Our staff, along with the one-and-only Dr. Duck, has kept the celebration going all week!
Austin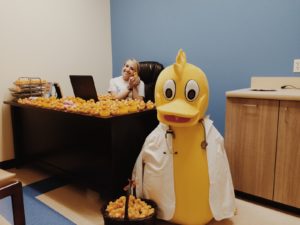 Our Round Rock clinic was experiencing a high-volume of sick kiddos on Tuesday night, so Dr. Duck and his ducklings (a.k.a. medical students) flew in to save the day. After setting up camp in our Marketing Director's office, Dr. Duck donned a mask and got to work.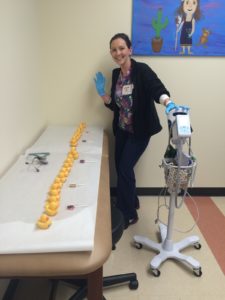 He had an absolute blast providing specQUACKular care for all of his patients!
Dallas-Fort Worth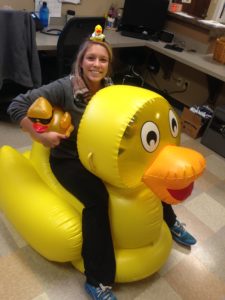 Dr. Duck learned that our Dallas-Fort Worth clinics were facing cold, wet weather, so he and his colleagues donned their shades to brighten up the dreary atmosphere! They splish-splashed around the clinics, reminding everyone that the warmer months are right around the corner.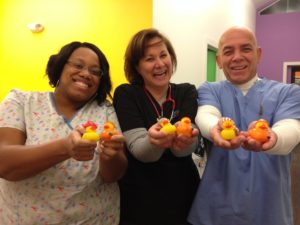 Dr. Duck even QUACKed-up our clinic staff with his shenanigans!
Houston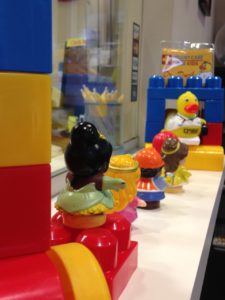 In between treating sick patients, Dr. Duck set-up a pop-up shop to take care of injured toys. He and the Houston staff worked tirelessly to fix broken parts and replace missing pieces.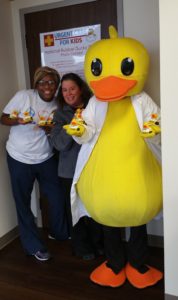 He also posed for photos with some of his biggest fans! All in all, Dr. Duck had a QUACKcellent National Rubber Ducky Day.
We aren't the only ones celebrating National Rubber Ducky Day all week—you and your little ones have joined us! Parents, teenagers, big kids, and tiny tots have all shown us their love for Dr. Duck—and the party continues on through Friday night. If you or a friend have a photo that you want to share, simply post it on our Instagram or Facebook pages—the winner on each social media outlet will receive a $150 gift card.
Have a QUACKtastic rest of the week!