If you've visited any Urgent Care for Kids clinic, chances are, you've seen Dr. Duck! He serves as the mascot for Urgent Care for Kids, and is loved and recognized by many of our patients and their parents. We decided to interview Dr. Duck so you can learn more about how he helps make Urgent Care for Kids the best pediatric urgent care in Texas!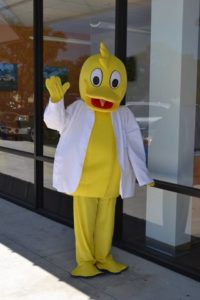 What's your favorite part about working at Urgent Care for Kids as our mascot?
I love being able to assure parents that they're at the right place, and help kids feel more comfortable at the doctor. My job is to make Urgent Care for Kids a kid-friendly place, so I love to see kids smiling and on their way to feeling better when they walk out the door! I'm happy to be a face that parents and kids alike recognize, know, and trust.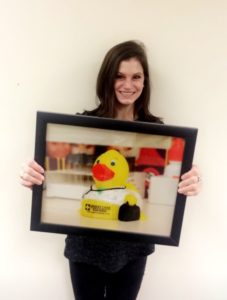 What do you like to do for fun? 
When I'm not in the clinic, you can find me at community events, visiting schools, or riding around in my Duckmobile! The Urgent Care for Kids marketing directors have taken me to some really fun places, and I love getting to meet all of my little fans. I'm proud to be known as "The Duck Doctor" in Austin, Houston, and DFW!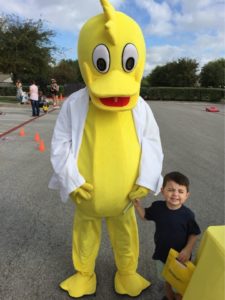 What are some ways you help kids feel better when they're at Urgent Care for Kids?
Well, I mostly try to keep them calm so our experienced pediatric providers can do their job well. There are pictures of me and my friends in each clinic and exam room, which can add a little bit of fun and distraction to a doctor's visit. Also, each child leaves Urgent Care for Kids with a Dr. Duck of their own!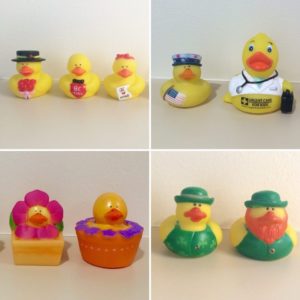 We are so proud to have Dr. Duck as our mascot, and the face of Urgent Care for Kids. He makes it easy for us to be kid-friendly and help each child feel better as soon as possible.
Urgent Care for Kids is the largest pediatric urgent care chain in Texas, serving families in the greater Austin, DFW, and Houston areas. Our goal is to provide every patient with the highest quality medical care and superior customer service at a time and location that is convenient to working parents. We accept all major commercial insurance plans and all Texas Medicaid and CHIP plans in order to best serve our patients and their families. To learn more about our locations, hours, and services we provide, please visit our website.