Physical fitness is very important to overall health, even in kids. In this series, we will share tips on how to make fitness fun, creative ways toy get kids moving, steps to take to make fitness a healthy habit, and more! Lace up your sneakers and let's get moving!
Regular exercise is important for kids, not only for their current health, but for their future health as well, even into adulthood! It's important to start instilling in kids early that exercise is a lifetime activity and a longstanding component to a healthy lifestyle. Here are a few tips on how to present exercise to your kids in a way that will stick with them forever: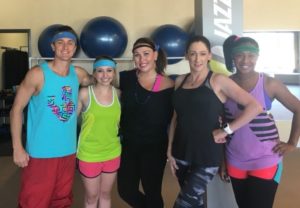 1. Set an Example 
As a parent, the best way you can teach your kids that exercise is a lifetime activity is by modeling that principle yourself! If you make a healthy lifestyle a priority, your kids will likely grow up believing that regular exercise is a priority as well. Get your whole family involved with meal planning and working out, and teach your kids that it's just a normal part of life.
2. Find A Lifetime Fitness Activity
Help your kids find an activity they will enjoy and be able to continue into their adult life! Activities like running, yoga, dancing, and sports such as volleyball and basketball are great options that require little to no equipment and can easily be done alone or with a few friends. If children find something they like in high school and maintain that routine through college, it's highly likely that they will maintain a fitness routine throughout their life.
3. Make it Fun
Rather than focusing on exercise as something you have to do, think of it as something you get to do! Teaching your kids that exercise is fun, is a privilege, and isn't a chore will make them more likely to enjoy exercising rather than dread it.
Urgent Care for Kids is the largest pediatric urgent care chain in Texas, serving families in the greater Austin, DFW, and Houston areas. Our goal is to provide every patient with the highest quality medical care and superior customer service at a time and location that is convenient to working parents. We accept all major commercial insurance plans and all Texas Medicaid and CHIP plans in order to best serve our patients and their families. To learn more about our locations, hours, and services we provide, please visit our website.