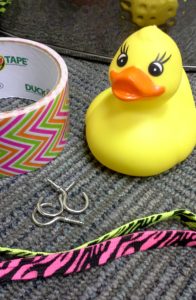 The hot summer months are fast-approaching—which means you will soon be looking for ways to keep your kiddos entertained without emptying your pockets. Believe it or not, Urgent Care for Kids and Dr. Duck can help!
Enter "Dive for Dr. Duck," a DIY fishing game that has been an absolute hit at our DFW and Houston-area events. Are you ready for the best news yet? You and your children can make this game together for under $25!
Items Needed:
– 4 Rubber Ducks
– 2 Long Medium-Width Dowel Rods
– 1 Pack of Large Screw Hooks
– 1 Roll of Colorful Duck Tape (Pun Intended!)
– 2 Sets of Colorful Shoelaces
Ready to get quacking?
The Ducks! Carefully screw one hook into each rubber duck. Mom and Dad—you may want to do this for your kiddos as the screws can be rather sharp.
The Hooks! Tie one shoelace to the straight, screw-side of each hook. Once the knot is secured, tightly wrap a piece of duct tape around it. This ensures that the hook will not slide off of the shoelace.
The Fishing Poles! Using scissors or an exacto knife, carefully cut the dowel rods in half, leaving you with four child-size fishing poles. Tie the unused end of one shoelace to the tip of each dowel rod, then wrap it with duct tape. Once the shoelace is firmly attached, wrap the entire dowel rod in duct tape. Once this step is complete, you'll have four water-proof fishing poles!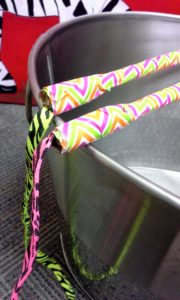 The Pond! If it can hold water, then it can be used as the pond! Do you prefer that your kiddos stay inside the house? If so, fill up the bathtub or kitchen sink! Ready for your kiddos to get some fresh air? Grab a large bucket and fill it with the garden hose!
Watch Your Kids Quack Up! Grab the ducks, place them in the pond, and get fishing—we promise your children will be giggling while playing "Dive for Dr. Duck"!