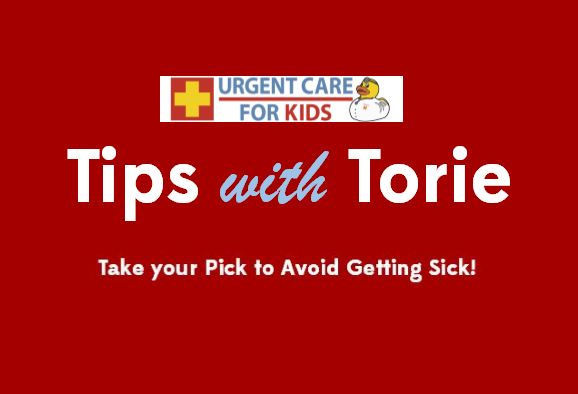 Its that time of year again.  The time of year where temperatures begin to drop, the leaves begin to change, the smell of pumpkin is in the air, and the holidays are right around the corner.  We all love this time of year, but the changing of the seasons is often accompanied by a season none of us are very fond of.  Here at Urgent Care for Kids we like to refer to this as the "sick season, cold season or flu season."  This season comes every year, and there's no denying it, by practicing good hygiene and being careful to avoid cold germs, you may escape cold and flu season unscathed.
Being a registered nurse I have treated numerous sick kiddos over the years and while there is no way of predicting whether or not you will get sick there are plenty of good health habits that prevent illness and the spread of germs.  It goes without saying that people are cooped up longer during the winter months because of this it is essential that you act fast and act smart in order to prevent the spread of germs. The University of Arizona scientists have found that when someone is sick in an office, it takes only four hours  for surfaces like coffeepot handles, copy-machine buttons and the fridge doors to show traces of an infectious virus.  I have compiled a short list of the 5 best ways to protect yourself this flu season.
GET VACCINATED: One of the best ways to prevent yourself from getting the flu is to get vaccinated.  Additionally, if you happen to get the flu, there are medications you can take to prevent the length of your flu symptoms.
WASH YOUR HANDS:  It seems simple, but washing your hands frequently and correctly, will help to eliminate the spread of germs.  This is especially important in school and office settings where germs are easily transmitted through door knobs and common appliances.
THE DRACULA COUGH:  I particularly enjoy this name because it's festive and kids get a kick out of learning the proper way to cough: just like Count Dracula.  Essentially, this is all about coughing or sneezing into the crease of your arm and elbow and not into your hands.  This will prevent the spread of germs through hand shakes and touching.
DRINK WATER:  Keeping yourself hydrated is one of your bodies best defenses against the common cold.  Many studies have been conducted that show that staying hydrated actually leads to a boost in a particular immune response.  Enabling your body to better fight off viruses.  Shoot for 6-8 glasses of water a day!
SLEEP and AVOID STRESS:  Getting a good amount of sleep and avoiding stress can help your body avoid sickness.  If your body is able to rest then your immune system will have the ability to strengthen and recharge!  Studies show that those who suffer from stress will have weakened immune system and they are are more prone to catch a cold.
In Summary,  while there isn't anything we can do to completely prevent sickness, these simple steps can help you and your family reduce the chance of being infected this flu season.
Meet the Author:
Torie has been a loyal member of the Urgent Care for Kids team since its beginning in 2011. She's a part-time pediatric nurse at our Cedar Park location, and a full-time Mom to two precious children. Her experience as both a mom and a registered nurse have made her a valuable asset to the UC4K team!