The holiday season is a time for giving back, whether that's by volunteering locally or making the holidays special for someone halfway across the globe. While many people do this with their family members or friends, Urgent Care for Kids, the largest pediatric urgent care chain in Texas, decided to give back as a company.
"Giving back is something that not only helps build a stronger team, but it's something that's very important to us," said Melissa Bauman, Vice President of Marketing & Customer Service. "With our team spread out across Texas, it was fun to have a project that every single employee could participate in and see a global impact. We're looking forward to establishing this as an annual project, and can't wait to see how it grows each year."
Urgent Care for Kids chose to participate in Operation Christmas Child, a project directed and implemented by Samaritan's Purse, a faith-based organization that provides crisis relief around the world. Staff members who participated packed a shoebox filled with toys, hygiene products, and school supplies to be delivered to children in impoverished areas. All nine Urgent Care for Kids clinics and corporate staff participated to donate shoeboxes to be shipped internationally.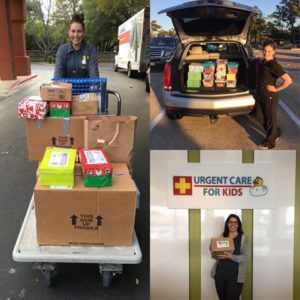 "Operation Christmas Child is an amazing mission and Urgent Care for Kids is thrilled to be a part of it," said Brian White, CEO. "I am so proud of our many team members who participated this year in order to make a difference in the life of a child in countries across the globe.  We have a wonderful team of people at Urgent Care for Kids and the passion they showed for Operation Christmas Child only proves how dedicated they are to helping children."
Urgent Care for Kids is an after-hours pediatric facility designed to provide quality pediatric healthcare with short wait times at an affordable price. Each location offers flu and strep testing, x-rays, and laceration repair 365 days a year.