An exciting change took place today at Urgent Care for Kids in McKinney! We have expanded our hours to open at 12pm on weekdays, rather than 3pm in order to serve more patients at a time that is convenient for them.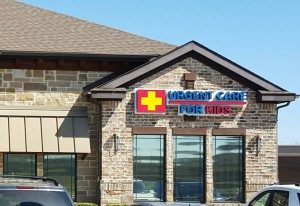 Our McKinney location opened in September of 2014, and grew quickly, moving to a new location in October of 2015. This new location, located across from Baylor Scott & White Hospital, is larger than the previous clinic, allowing more space and increasing patient capacity. Since the relocation, the clinic has seen tremendous success and high patient volumes, which led to the decision to extend hours of operation.
"Our two years in McKinney have been very exciting and we're continuing to see exponential growth," says April Gillam, COO of Urgent Care for Kids. "Having grown up in McKinney myself, it has been so wonderful to see my hometown experience a skyrocketing population increase because of its suburban appeal, with young families being in the overwhelming majority of that population. By opening our doors a little earlier, we'll be able to be an option for even more patients. We're looking forward to be able to see sick kids sooner so they can get better faster."
Originally, we opened our doors in McKinney to provide excellent pediatric urgent care on nights, weekends, and holidays, a niche that was missing in McKinney in 2014. To date, we continue to provide top-notch pediatric care with exceptional customer service, and partners with area pediatricians to ensure the highest quality of care for each patient. The extended hours will allow us to serve even more families in McKinney and the surrounding areas. Our McKinney facility offers all digital x-rays, laceration repair, and rapid flu and strep testing. Additionally, Urgent Care for Kids is in-network with most commercial insurance providers and all Texas Medicaid and CHIPs plans.
For any inquiries regarding the change in hours, services, insurance, or any other questions, please contact us at 214-592-0701.