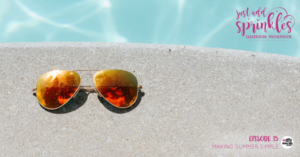 We had the pleasure of partnering with one of our favorite mom networks, City Mom's Blog! The series stretches from coast to coast and dives into all things pregnancy, parenting, mom must haves and everything in between. Urgent Care for Kids is proud to sponsor Episode 15 of their new Just Add Sprinkles podcast. We begin this edition with the daunting realization of summertime, and all of us moms with school-age kids are feeling the same way…we're tired. We're done with homework. Done with lunches. Done with drop-offs and pick-ups. But, guess what summer is just around the corner…so now what?!
Click here to tune in for more!
Getting your kiddos ready for summer activities? For all our Texas mommas out there, enjoy our special $20 sports physical discount when you mention "City Mom's Blog" during your next visit to any of our Austin, Dallas-Fort Worth or Houston locations. Here's to a great and relaxing summer!
---
Urgent Care for Kids is the largest pediatric urgent care chain in Texas, serving families in the greater Austin, DFW, and Houston areas. Our goal is to provide every patient with the highest quality medical care and superior customer service at a time and location that is convenient to working parents. We accept all major commercial insurance plans and all Texas Medicaid and CHIP plans in order to best serve our patients and their families. To learn more about our locations, hours, and services we provide, please visit our website.