Last week, we kicked off our new Friday series, UC4K Fast Facts by sharing about our newest clinic, East Round Rock. This Friday, we're giving our Houston-area friends a chance to learn more about us by featuring our Woodlands clinic.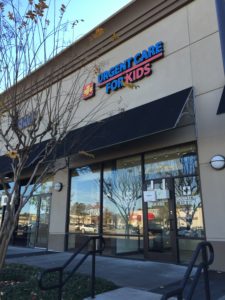 Fast Facts-The Woodlands
The Woodlands clinic was our second Houston-area location to open, following the Katy clinic. We opened our doors on October 30, 2013, and recently celebrated two years in The Woodlands. Here's hoping to many more!
On October 1, 2015, The Woodlands clinic debuted expanded hours, opening for business at 12pm rather than 3pm due to customer demand. We love having the opportunity to serve you and your family even more!
The Woodlands clinic serves families in quite a few areas, including The Woodlands, Conroe, Spring, Magnolia, Tomball, and Willis. We're conveniently located right off I-45 across from The Woodlands Mall, so we're easy to find in this high-traffic area.
Each of our providers in The Woodlands clinic has a specialty in pediatrics, so they're not only great at interacting with children, they have extensive training and clinical experience to help your little ones stay healthy!
Our Woodlands clinic has an "Under the Sea" theme, with fun paintings and artwork featuring Finding Nemo characters, the Rainbow Fish, mermaids, and many more marine animals!
Just like all of our clinics, the Woodlands offers x-rays, minor laceration repair, lab testing, sick visits, and more! We also accept Texas Medicaid and CHIP plans and most commercial insurance plans such as Blue Cross Blue Shield, Aetna, United Healthcare, Cigna, and more. For a complete list of what we treat and what insurance we accept, please visit our site!
The Woodlands clinic is one of four locations in the Houston area. We also have locations in Katy, West University, and Spring.
From the outside, The Woodlands clinic looks a bit small, but once you go up the elevator you'll step into our brightly-colored, kid-friendly waiting area to find a beautiful, spacious clinic with eight exam rooms to maximize the number of patients we can see while minimizing wait times!
Before becoming Urgent Care for Kids, our space was an Oriental rug gallery…talk about a big change! We stripped the building down to the bones and built the perfect layout for a clinic.
We love getting involved in the community of The Woodlands and the surrounding areas. Whether we are having story time with Dr. Duck at the library, entertaining little ones during Teddy Bear Urgent Care events, or partnering with school districts for flu shot drives, we want all of our patients to know that The Woodlands is a community we are proud to live, work, and serve in.
Each of our clinics provides exceptional medical care to each of our pediatric patients, along with outstanding customer service to each family we see, and our Woodlands clinic is no exception to that. We are proud to serve  the greater Houston area, and if you would like to learn more about our Woodlands site, you can stop by for a tour, or give us a call.