Which is which? In the heat of the moment, knowing the best place to take your child for medical attention can feel overwhelming. Rest assured that Urgent Care for Kids is equip with pediatric-trained specialists to provide your family the best answer. Over the years, we've assisted families in a variety of scenarios and are excited to share a guide showing the difference between urgent care and emergency care.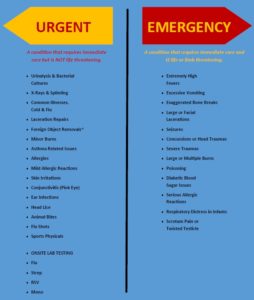 Urgent care is defined as a condition that requires immediate care but is not life threatening. Urgent Care for Kids is the perfect place to bring your child for situations like this. An urgent-care condition can include allergies, needing stitches or an x-ray for example. Emergency care, on the other hand, is classified as a condition that requires immediate care and is life threatening. These situations include poisoning, concussions and diabetic blood sugar issues to name a few. Should your family find yourselves at Urgent Care for Kids and seeking treatment for these conditions, we will immediately triage your child to one of our preferred emergency room centers for the most appropriate and best care.
While every situation is different, it is important to keep these rule-of-thumbs in mind so you can avoid hopping around from urgent cares to emergency rooms and vice versa – waiting for an unnecessary period of time and overpaying when you could have received urgent care. And at Urgent Care for Kids, the pediatric expertise, hours of operation, urgent care co-pay and welcoming atmosphere makes all of the difference.
Have a question or need more clarification? Don't hesitate to call a friendly Urgent Care for Kids staff member to learn more about our services, what insurances we accept, where we are located and more!
---
Urgent Care for Kids is the largest pediatric urgent care chain in Texas, serving families in the greater Austin, DFW, and Houston areas. Our goal is to provide every patient with the highest quality medical care and superior customer service at a time and location that is convenient to working parents. We accept all major commercial insurance plans and all Texas Medicaid and CHIP plans in order to best serve our patients and their families. For medical opinions, please visit with our medical staff at our urgent care locations. To learn more about our locations, hours, and services we provide, please visit our website.