Welcome back to #THROWBACKTHURSDAY! We love this series because every Thursday we take a trip down memory lane and visit the history of Urgent Care for Kids, healthcare, and other fun things. Hop into our time machine and let's go!
Today, we're learning about the history of crayons! A staple in every school box, and a tool for a favorite pastime, crayons have been a part of childhood for many generations. Here's how crayons went from a carbon-based product to the rainbow of colors we have today!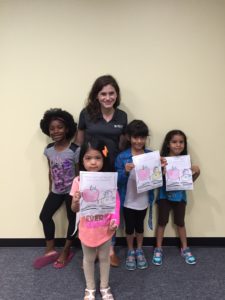 1864 – Joseph Binney founds Peekskill Chemical Works in upstate New York for producing charcoal and lamp black.
1880 – Joseph Binney sets up headquarters in New York City, joined by son Edwin Binney and nephew C. Harold Smith.
1885 – Joseph Binney retires; Edwin and C. Harold Smith, form a partnership and call their company Binney & Smith.  Early products include red oxide pigment used in barn paint and carbon black used for car tires.  During this time, Binney & Smith took an active role in the development and production of carbon black from natural gas, after natural gas deposits were found throughout Pennsylvania.
1900 – The Company begins producing slate school pencils in its newly opened Easton, Pennsylvania mill.
1902 – Binney & Smith developed the Staonal Marking crayon.Listening to needs of teachers, Binney & Smith introduced the first dustless school chalk.
1903 – Noticing a need for safe, quality, affordable wax crayons, the company produces the first box of eight Crayola crayons containing red, orange, yellow, green, blue, violet, brown, and black sticks.  It sells for a nickel.  The Crayola name, coined by Edwin Binney's wife Alice, comes from "craie," the French word for chalk, and "ola," from "oleaginous."
1949 – Crayola introduces the "Crayola 48" containing 48 color crayons in a "stadium seating" box.
1958 – The 64-color assortment of Crayola crayons – with a built-in sharpener – debuts
1990 – Eight Crayola crayons – maize, raw umber, lemon yellow, blue gray, orange yellow, orange red, green blue and violet blue – are retired into the Crayola Hall of Fame in Easton, Pennsylvania.
1991 – Binney & Smith offers the eight retired Crayola crayon shades, along with a 64-box, in the Crayola Collector's Colors Tin for a limited time.  Crayola Washable crayons are introduced.
1993 – Binney & Smith celebrates the Crayola brand's 90th birthday with the biggest crayon box ever – it holds 96 crayons, including 16 new colors.  For the first time, the company asks consumers to name the colors through the Crayola "Name The New Colors Contest."
1996 – A colorful and historic milestone is recorded as the 100 billionth Crayola crayon rolls off the production line in Easton, Pennsylvania.
2003 – Happy Birthday Crayola!   The Crayola brand celebrates 100 years of making the world a more colorful place for children. The World's Largest Crayon was unveiled at Crayola's 100th Birthday party in Easton, PA., on October 11th, breaking the old Guinness record of 10ft., the World's largest Crayola Crayon weighed in at 1,500 lbs., 15 feet high, and 16 inches wide, in America's favorite color – blue!
2011 – May 4, 2011 – Edwin Binney is elected into the National Inventors Hall of Fame, in recognition for his invention of an apparatus for the manufacture of Carbon Black.  He received a patent for this invention on May 26, 1891.
For more on the history of crayons, head to Crayola.com!
Urgent Care for Kids is the largest pediatric urgent care chain in Texas, serving families in the greater Austin, DFW, and Houston areas. Our goal is to provide every patient with the highest quality medical care and superior customer service at a time and location that is convenient to working parents. We accept all major commercial insurance plans and all Texas Medicaid and CHIP plans in order to best serve our patients and their families. To learn more about our locations, hours, and services we provide, please visit our website.