Welcome back to #THROWBACKTHURSDAY! We love this series because every Thursday we take a trip down memory lane and visit the history of Urgent Care for Kids, healthcare, and other fun things. Hop into our time machine and let's go!
Today, we're looking at the history of something that at one point or another each of us have used. This invention helps contain what would be a very big mess and you stop using them a fairly young age. Any ideas what it is? DIAPERS! Let's learn more!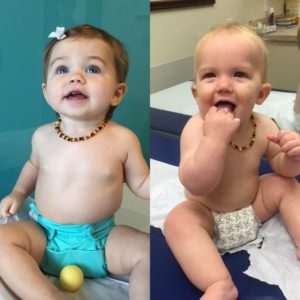 Ancient Times
Leaf wraps, animal skins, swaddling bands, and other natural resources were used. In some tropical climates most babies just were naked all of the time and mother's tried to anticipate when their baby would need to use the bathroom. Today, this practice is still used and referred to as elimination communication.
Late 1800's
In Europe and North America, children wore a square or rectangle of linen or cotton flannel and it was folded and held in place with safety pins.
20th Century
In the early part of the century, cloth users began to realize how dirty the diapers were and began boiling the diapers after use to kill bacteria. Around the time of WWII, "diaper service" came to be, where fresh diapers were delivered on an as-need basis.
The first disposable absorbent pad used as a diaper was invented in 1942 by Paulistr in Sweden. The first pin-less, snap-on diaper was invented by Sybil Geeslin in 1950. Over the next 50 years, many changes and improvements were made to the diaper to make it more durable and comfortable.
21st Century
Cloth Diapers have made a comeback and the amount of information available on the internet to support your decision to use cloth or disposable are infinite. Designer diapers have been quite popular. Some brands being sold for $200-$200 at auctions. Diaper sewing is a hot past time and many online resources, patterns, and diaper fabric stores have opened.
Click here to learn more about the History of Diapers.
Urgent Care for Kids is the largest pediatric urgent care chain in Texas, serving families in the greater Austin, DFW, and Houston areas. Our goal is to provide every patient with the highest quality medical care and superior customer service at a time and location that is convenient to working parents. We accept all major commercial insurance plans and all Texas Medicaid and CHIP plans in order to best serve our patients and their families. To learn more about our locations, hours, and services we provide, please visit our website.