Welcome back to #THROWBACKTHURSDAY! We love this series because every Thursday we take a trip down memory lane and visit the history of Urgent Care for Kids, healthcare, and other fun things. Hop into our time machine and let's go!
Today, we're learning the short history behind rubber ducks! Here at Urgent Care for Kids, rubber ducks are our favorite toy, and we were interested in learning more about how they were invented!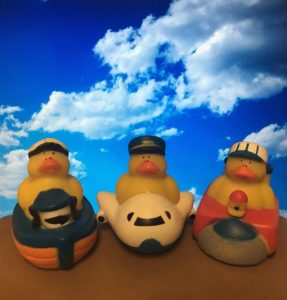 Late 19th Century
The invention of rubber ducks is linked to the increase in rubber manufacturing in the late 19th century. The earliest rubber ducks were made from hard rubber, didn't float, and were intended to be used as chew toys.
1940s
Sculptor Peter Ganine created a sculpture of a duck, then patented the design and reproduced it as a floating toy, selling over 50 million.
1969
Rubber ducks grew in popularity thanks to Ernie, a Muppet on Sesame Street.
2011
Rubber ducks became the official toy and mascot of Urgent Care for Kids! Today, you can find ducks decorating all nine of our clinics, see Dr. Duck at many Urgent Care for Kids events, and even take home the "Duck of the Month" after each visit to an Urgent Care for Kids clinic!
Urgent Care for Kids is the largest pediatric urgent care chain in Texas, serving families in the greater Austin, DFW, and Houston areas. Our goal is to provide every patient with the highest quality medical care and superior customer service at a time and location that is convenient to working parents. We accept all major commercial insurance plans and all Texas Medicaid and CHIP plans in order to best serve our patients and their families. To learn more about our locations, hours, and services we provide, please visit our website.