As well as providing superior pediatric care for your little ones, Dr. Whitenton has an array of knowledge of helpful tips for your family! With summer just around the corner, today she is here to talk about staying safe in the heat!
Temperatures are on the rise, and so is the incidence of heat related illness.  Everyone's threshold for sustaining injury due to heat is different, but being able to recognize the signs that a problem is occurring can save lives.  As soon as any heat related illness is suspected, move the child to a cooler location such as an air conditioned car or building, or under some shade if air conditioning is not readily available.
Heat cramps:  These are muscle cramps caused by abnormal electrolytes that are lost during sweating.  It doesn't take much sweating to change the electrolyte balance in a small child.  Kids are most at risk for this if they are not drinking enough fluids.  Addressing this as soon as it is recognized can help prevent progression to more serious heat related illness.
Heat exhaustion:  This may cause weakness, nausea/vomiting, headache, increased sweating, increased internal temperature (but less than 104 degrees), fainting, and cool, clammy skin.  Heat exhaustion does not cause permanent damage, but recognizing and treating it quickly is important so that heat stroke does not occur.  First, remove some clothing and apply cool, moist cloths to the skin to reduce the temperature.  The child should drink fluids, preferably ones that contain electrolytes.
Heat stroke:  This can be fatal and suspicion of it should prompt activation of emergency services.  Signs include a severe headache, a lack of sweating, internal temperature over 105 degrees, rapid breathing, confusion, seizures, or loss of consciousness.  Fluids should only be given orally if the patient is awake and alert.  Remove clothing and pour cool water over the skin until EMS arrives.
Being aggressive about preventing and treating heat related illness will keep kids and adults safe during these hot months.  Enjoy the heat, but use caution.  Have a wonderful summer!
---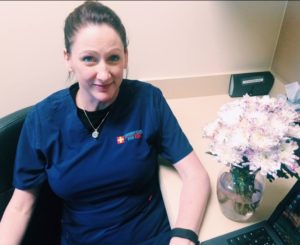 Dr. Kristi Whitenton is a graduate of the University of North Texas Health Science Center in Fort Worth, followed by general pediatrics residency at the University of  Texas Health Science Center at San Antonio.  After two years of additional training in pediatric critical care, she became a medical director for Little Spurs Pediatric Urgent Care in San Antonio.  In August 2014, she joined Urgent Care for Kids as the medical director for the Austin area.  She is a fellow of the American Academy of Pediatrics and has a son attending Southern Methodist University in Dallas.  In her spare time, she enjoys running, baking, and supporting the visual and performing arts.
---
Urgent Care for Kids is the largest pediatric urgent care chain in Texas, serving families in the greater Austin, DFW, and Houston areas. Our goal is to provide every patient with the highest quality medical care and superior customer service at a time and location that is convenient to working parents. We accept all major commercial insurance plans and all Texas Medicaid and CHIP plans in order to best serve our patients and their families. To learn more about our locations, hours, and services we provide, please visit our website.