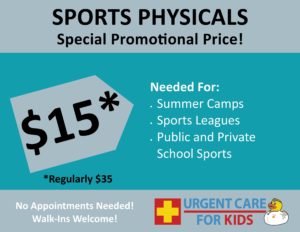 Spring has sprung, and so has the new sports season! Whether you need a physical for extracurricular activities, sports leagues, or school sports, run to our board-certified physicians/pediatric trained nurse practitioners to do the job. We offer sports physicals seven days a week, no appointments necessary.
Why Your Child Needs a Physical:
If your child is participating in a spring sport, it is likely they will need a sports physical as clearance to play during the season. Sports physicals are a safe way to assess if your child is healthy enough to participate.
What to Expect:
Although physical examinations tend to vary by the provider, the ultimate goal is to identify and eliminate any risk or injury for the athlete.
"During our exams we fill out a sports physical forms- either given by the school or a coach. We examine the child. We ask the child to perform a series of physical moves like jump, bend, move." Said Betty Pratt, Pediatric Nurse Practitioner.
For your convenience, Urgent Care For Kids is currently offering sports physicals at a discounted rate of $15.00 (original price $35.00).
---
Urgent Care for Kids is the largest pediatric urgent care chain in Texas, serving families in the greater Austin, DFW, and Houston areas. Our goal is to provide every patient with the highest quality medical care and superior customer service at a time and location that is convenient to working parents. We accept all major commercial insurance plans and all Texas Medicaid and CHIP plans in order to best serve our patients and their families. To learn more about our locations, hours, and services we provide, please visit our website.