Ruthie Hart is a mommy blogger in Austin, TX and juggles staying at home with her 17 month old son Ford, growing a baby girl due in April, and also running a mother's community website called MOMquery. She enjoys reading, crafting, and being in the beautiful outdoors!
Blog: www.ruthiehart.com MOMquery: www.momquery.com
Dealing with a sick baby is something that unfortunately I have a lot of experience with. I should rephrase that to dealing with a sick baby AND a sick husband while being pregnant and sick. That was a mouthful! Anyway, the stresses of parenthood seem to come and go and nothing can send you into more panic or exhaustion than when your child is sick. My son Ford, 17 months, is one of the happiest kids I know. He is lively, talkative, independent, and a great eater so when he all the sudden was lethargic, clingy, fussy, and lacked any appetite over the holidays, I knew something was wrong.
He had a pretty high fever, nasty cough, and a terrible cold. Flu, RSV, ear infection… all of the tests came back negative and that is normally something I would celebrate but it also leaves you back at square one, wondering what the heck is wrong with your precious, happy baby! We spent almost 2 weeks home bound waiting for this nasty bug to leave my son's body while it simultaneously infected me, my husband, and even my parents. Because it was the middle of winter and Texas was proving to actually be COLD this year, it was easier to lock ourselves inside and stay quarantined knowing we weren't missing out on much. To make nursing a sick baby back to health a little easier, I want to share some essentials that saved my sanity (and made my little guy feel better!).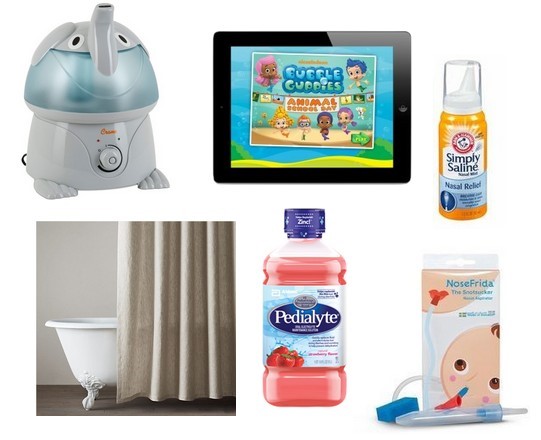 Crane Humidifer- We pretty much have this going for 2-3 months straight during cold and flu season because Ford is a stuffy baby. It is cool mist so it opens up his lungs and makes it easier for him to breathe at night and during naps. He loves when daddy fills up his elephant before bed and makes the funniest elephant sound!
iPad games/shows- Sure, studies show that children shouldn't be exposed to television or video games at such a young age but when your baby is sick, you are desperate! Because Ford was so lethargic and all he wanted to do was cuddle, we spent hours on a homemade pallet we made with the couch cushions and watched dozens of Bubble Guppies episodes. It was such a relief to see his smile as we watched, knowing how much pain he was really in. When he is healthy, I try to keep TV to a minimum and use it as a special treat.
Simply Saline– I spent the first few months of Ford's life struggling with getting him to lay down flat so I could use saline drops in his stuffed up nose, and then I discovered the saline mist. It is a life saver! I use it on myself before I squirt up his nose so he thinks it is fun! It helps clear those sinuses and makes it easier for baby to breathe.
Steam showers- Not only do steam showers pass the time (and time can drag on when you have a sick baby) but it helps open up their noses, throats, and lungs. We take Ford into our guest bathroom where we can crank up a hot shower and sit in the room while it steams up. If he's dirty, we will actually get in the shower with him and he enjoys playing in the hot water.
Pedialyte– While Ford was sick he refused almost all foods and only wanted milk which isn't great for mucus buildup during a nasty cold. We tricked him into drinking lots of Pedialyte and calling it juice so he was hydrated.
Nose Frida- the best invention for mothers! Although I can't use it anymore on Ford (holding him down is quite the chore and he screams his head off), it came in handy many times the first year of his life to suck out all that nasty snot. Most people are instantly turned off by it because they read they they have to suck the snot out but there are two filters that prevent any of your baby's snot from entering your mouth. It is my go to baby shower gift, an absolute life saver!
And there you have it. A few items to make your sick baby days a little more bearable. If your baby is old enough, consult your pediatrician for medication and treatment options. We keep baby Motrin and Tylenol on hand at all times to bring down those high fevers and take away harsh pains.