If you live in Texas, you have probably experienced a few rainy days over the last month. It can be easy to turn on the TV and have a movie day, but taking the time to engage with your little ones can help improve their mental and physical health. If you have a toddler, you know that rainy days mean it's time to get creative with indoor activities to keep them busy! We've put together a list of a few of our favorite indoor activities for toddlers!
Bake Alphabet Cookies
Baking with your children can be a great way to teach them about how food is made, as well as provide a sensory activity for them. You can add a learning element by making cookies in the shape of letters and call out each letter as they are formed. Use a pizza cutter to cut the dough into strips and have the kids roll the dough and help to shape each letter! This activity is a great way to help your children learn and have fun at the same time. When the cookies are finished, thank them for helping you and tell them how delicious they are! This will help them feel like they accomplished something and did a wonderful job.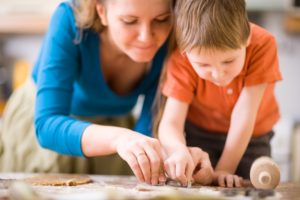 Color Scavenger Hunt
 We loved this idea from the Artful Parent! Give your child a small bucket and tell them to find 5-10 orange items around the house and place them in the bucket. They could find things such as crayons, paintbrushes, construction paper, tissue, stuffed animals, etc. After they finish one bucket, have them search for 5-10 blue items, and so on! This is a great activity to help children with color recognition, counting, and developing creativity.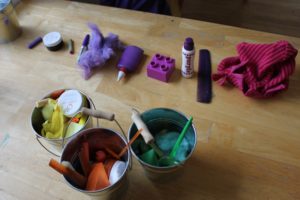 Paint the Windows
 It may sound crazy, but let your mini Picasso's paint the windows! Mix a little bit of dishwashing detergent with some tempera paint and let them get started on their masterpiece. You can use painters tape to make a frame, or line the windowsill as well. You little ones will love getting to watch the rain while they paint. A few days later, you can make it a window washing project! We found this idea at What we Do All Day.
Alphabet Fishing
This is such a wonderful game created by The Imagination Tree. You'll need an empty container, ping-pong balls, mini egg cartons, a permanent marker, and a fishing net.  Write various letters and numbers on each ping pong ball, and place them into the bin filled with water. Write the correlating letters inside of each egg carton. Let the kids use the net (or their hands) to fish the ping-pong balls out and match them to the correct letter or number in the egg cartons. This is a great activity to help with letter and number recognition, and a great sensory activity as well!
Cardboard Tube Marble Run
Have you ever seen a marble run at the toy store?  Why not have your kids make their own! Use recycled cardboard tubes (from toilet paper or paper towels), tack, and marbles to get started. Start by using the tack to paste the tubes to a window or door, and have your kids help you to decide on where to place each tube. You could also have your children decorate the tubes using markers, stickers, or glitter. This is a great way to extend the activity and help them to feel like it's their own creation. After they place the tubes on the window, the real fun begins! They can drop the marbles in and use trial and error to find a great path! You can learn more about creating this game at Learn with Play at Home.
We all hope that sunny summer days are ahead, but until then enjoy some creative activities with your little ones to teach and engage them. Moms and Dads know their children best, and will know how to help them learn and keep them entertained. If your family has a favorite indoor activity, we would love to hear about it!