While Thanksgiving is filled with family, fun, and feasting… it seems like once it's all over and Monday rolls around, we are all dragging with low energy levels and low motivation. Here is a little Holiday pick-me-up to help you and your family get back on track and into the Christmas spirit!
1. Don't skip breakfast!
It will definitely not make up for overeating on Thanksgiving. Eating breakfast jumpstarts your metabolism for the day and skipping the meal could leave you very hungry throughout the day and tempt you to overeat later on in the day. Get back on track by starting your morning off right with a nice nutritional breakfast such as, yogurt with a piece of fruit, oatmeal with nuts on top, or eggs with toast.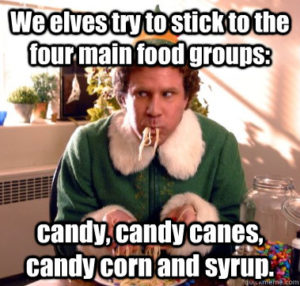 2. Make exercise a planned part of your holidays.
Making time for some form of physical activity at some point of every day is really crucial during this time of year. It is not only detrimental for your physical health, but emotionally as well. Most people are so down on themselves after the holidays for consuming way to much food, but if you are finding time for exercise each day, you are not going to feel as guilty. You are also going to have way more energy for all the holiday prepping, planning, shopping, parties, etc.
3. If you have not already put out the holiday décor, there is still time!
Do not freak out… there is still plenty of time to get your house ready-to-go and in full holiday swing! Set aside one day in your schedule to bring out all of your Christmas boxes, put in your favorite holiday Christmas album, and start decorating! The holidays are not supposed to be a drag! Whip up some hot cocoa and get the whole family involved! Moms- you could even make different competitions out of it if you have more than one child to see who does the best or fastest job at different tasks you give them. Kids love competition 😉
4. Make a detailed schedule.
Schedules can make or break you, especially during the Christmas craziness! Write everything down! Whether it is in your personal planner, or if use sticky notes as reminders. Moms- maybe consider getting a dry erase calendar to put on the fridge for the whole family to have as a reference. You could also use a color code with different markers: one for the kids schedule, one for your holiday work party, and one for Dad's hunting trip, etc. This will make things go a LOT more smoothly for everyone. You will not have anything sneak up on you or forget anything this way.
5. DO NOT STRESS!
Of course it is easier said than done, it's the holidays… aren't we all stressed? There is so much going on between the get-togethers, the cooking, parties, presents, decorating, etc. The list is endless. Take a day for yourself. You may say there is no time… well MAKE TIME. Mom's this is crucial. One day to yourself, especially in a hectic month with a full schedule, will do wonders for stress levels. Treat yourself to a mani/pedi (of course you have to get the Christmas designs), a one-hour massage, an evening at Starbucks with a holiday frap and a good book, or a dinner date with a friend; whichever you choose, take it because you're going to need it and wish you had before the month is over!
6. Most importantly… ENJOY!
Everyone is so busy with their own lives, their own schedules, their own problems. Well, this the time of year to set all of that aside and enjoy the time you have TOGETHER! Start new traditions, celebrate old ones, go to a Christmas light show, make a snowman, go Christmas caroling, watch a Christmas movie marathon, spend time with your loved ones. Do not let the Christmas crazy get the best of you!
Urgent Care for Kids wants to wish everyone a very Merry Christmas and Happy Holidays! We would love for you to share with us your different Christmas experiences and traditions, so please comment below!