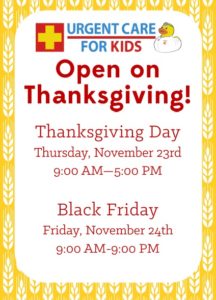 At Urgent Care for Kids, it's our mission to care for your children like they are our own and provide quality care for your family when you need it the most. That's why we are open every day of the year.
We will be open Thanksgiving Day and Black Friday from 9 a.m. – 5 p.m. Should your child require urgent care attention, don't hesitate to utilize our easy online check-in feature so you can get back to what matters, spending time with family.
Happy Holidays from our family to yours!
---
Urgent Care for Kids has four Dallas-Fort Worth locations including Allen, Keller, McKinney and Frisco. Services and treatments include office visits and consultations, onsite lab testing for flu, strep throat, RSV and mono, urinalysis & bacterial cultures, x-rays & orthoglass splinting, laceration repairs, foreign object removals, minor burns, asthma-related issues, allergies, mild allergic reactions, skin irritations, conjunctivitis (pink eye), ear infections, head lice, animal bites and seasonal flu shots and sports physicals. For more information on clinic services, locations and hours, please visit www.urgentcarekids.com.