This week, we are excited to feature Dr. Kristi Whitenton in our Provider Spotlight series. Dr. Whitenton is our Austin-area medical director, and can be found treating little ones at all three of our Austin locations (West Round Rock, East Round Rock, and Cedar Park).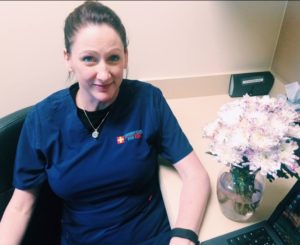 Q: Dr. Whitenton, tell us why parents should let you care for their children. 
A: I think most parents appreciate the approach that I have in taking care of their kids, which is that I view my part in the care of the child as a team member. The parents are also on that team. They have to be comfortable understanding what's going on and why I recommend treating a condition in a certain way, and if the parent isn't comfortable, we will develop a plan together that will make the parent comfortable while also keeping the best interests of the child front and center. I've just started my seventh year in pediatric urgent care, so I'm very comfortable with taking care of sick or injured kids.
Q: Why did you choose to specialize in pediatrics?
A: I thought I wanted to be an obstetrician when I started medical school, but while on my clinical rotations I found that once the baby was born, I was more interested in going with the baby than staying with the mom. Another thing I noticed during my clinical rotations was that I often looked at a surgery or clinic schedule to pick out the kids we would see each day. I enjoy pediatrics so much because kids are incredibly resilient and don't want to be sick. They just want to get back to the business of being a kid. I love helping them do that.
Q: What is your favorite thing about working at UC4K?
A:  My favorite thing about working at UC4K is that the company really embraces the pediatric aspect of medicine. From the support staff to the providers, the goal is making the experience as kid-friendly as it can be. Everyone here is all about the kids.
Q: What is your favorite thing about living in Austin?
A: The thing I love the most about living in Austin is the diversity. It's a college town, it's a live music town, it's a cowboy town, it's a "weird" town…it's a place that embraces every walk of life and doesn't try to make people fit into a certain mold.
Q: What is one thing that is unique about you that most people do not know about?
A: Most people probably don't know that I started out with a bachelor's degree in theatre arts before I decided to go into medicine. I think that gives me a unique perspective and truly allows me to view medicine as both art and science. In college, I did do a great deal of children's theatre, so I suppose it makes sense that I ended up in pediatrics!
We hope you enjoy learning more about each of the wonderful providers we have on staff at Urgent Care for Kids. We carefully select each and every team member at UC4K and we love telling you about them. If you or your family was seen by one of our amazing team members, we would love to hear about it in the comments below.