It's our mission to care for your children like they are our own, respect your time because it is limited, and offer quality care for you and your children when it matters most. Every team member at Urgent Care for Kids is invested in this goal and in providing the best customer service and pediatric urgent care – one of which is our supervising provider in Houston, Texas, Dr. Anirudh Saronwala. Read more to learn more about one of our pediatricians and what he has to say about the patient experience you and your family can receive at Urgent Care for Kids.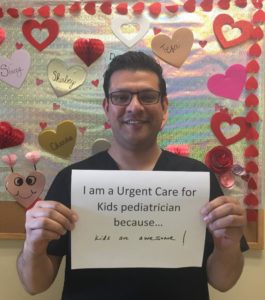 Where are you from?
I am originally from a small valley town nestled in the foothills of Himalayas, called Dehradun in India.
How did you get started in pediatrics?
I grew up in a family of doctors. Science came naturally to me. I decided to go into medicine because that's what we did in my family. I didn't quite find the "answers to life and disease I was looking for in conventional medicine, so I decided to search for the answers in genetic medicine. Conventionally, because genetic disorders are typically pediatric disorders, most geneticists train in pediatrics before going into genetics. That's how I got started in Pediatrics. I am almost done with my genetics training, but somewhere along the way, I fell in love with kids and being a pediatrician.
What do you love most about working with kids?
Kids are amazing. They want to feel better, and I find it deeply satisfying and an honor to get to play a small part in helping them feel better every day at work. Plus, if you tried to blow bubbles, act goofy, and do high fives with adults, they would think the doctor is losing it; but if you do it with kids in clinic, it's fun and builds rapport with the patient and their family!
We saw so many parents rush their children to the emergency room this season due to flu symptoms. When and why should families seek out urgent care over an emergency room?
Texas continues to have a heavy influenza-like illness season, with a little over 100,000 cases reported, of which about 20,000 are pediatric cases. Reason I say influenza-like is because only about a quarter of them are actually confirmed as caused by influenza A or B. Most importantly, children who contract influenza do rather well on average and do not need to be seen in an emergency room or hospital.
Perception has a lot to do with it. Parents read about deaths from influenza in the news and are naturally worried when their child shows symptoms.
When deciding between an emergency room or urgent care for an influenza-like illness, the most important factor is how the child looks to the parent. If the child is having a hard time breathing, acting confused or disoriented, or appears dry, especially if they have an underlying medical condition, then they should go to the ER. For majority of the children with no underlying medical condition, with fever, runny nose, cough, body aches, tired and uncomfortable, but otherwise alert and acting normal, we can help them at our urgent care. If parents are unsure, we are happy to see them, and direct them to the right place.
What would you say to a parent who wanted to know more about the level of care their child could receive at Urgent Care for Kids?
At Urgent Care for Kids, our mission is to practice evidence-based pediatric medicine in a kid-friendly environment. Our staff and myself truly lean on our mission and make a conscious effort to not lose sight of it. I feel confident in stating that we practice quality medicine here. We are good at what we do here and if a situation escalates to an emergency level, we do not hesitate to direct the parents to the right place. We always place children first and not our egos. I encourage you to check our reviews to see how we have been doing, and continue to provide more reviews. We take the reviews seriously and are always open to improving our practice to serve your children better.
What do you love most about Urgent Care for Kids?
I love the people I work with and the ability to practice evidence-based medicine.
---
Urgent Care for Kids is the largest pediatric urgent care chain in Texas, serving families in the greater Austin, DFW, and Houston areas. Our goal is to provide every patient with the highest quality medical care and superior customer service at a time and location that is convenient to working parents. We accept all major commercial insurance plans and all Texas Medicaid and CHIP plans in order to best serve our patients and their families. To learn more about our locations, hours, and services we provide, please visit our website.