At Urgent Care for Kids, it's our privilege and priority to offer the most sincere and expert pediatric care and customer service to you and your family. We aim to respect your time because we know it is limited and offer a welcoming and at-ease environment in the wake of unexpected or worrisome events. It takes a special person to pursue a career in medicine and, more specifically, pediatrics – one of which is our leading pediatrician and North Texas Medical Director, Dr. Adolfo Flores! His years of experience and big heart for little patients makes kiddos and their families feel right at home when they require urgent care. Read on to learn more about Dr. Flores, a Dallas-Fort Worth patient favorite.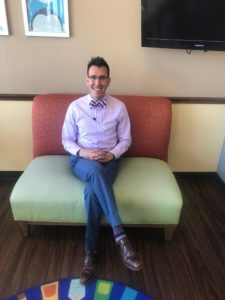 Where are you from?
I'm from El Paso, Texas and came to DFW for Medical School at UT Southwestern based in Dallas.
How did you get started in pediatrics?
Originally, when I went to medical school and thought I wanted to be a forensic medical examiner. But, in my third year during my clinical rotation, I fell in love with pediatrics. It was in that moment I knew that is where I was meant to be. I was interested in the rarity, complexity and variety of patients. It's been a rewarding and engaging experience ever since!
What do you love most about working with kids?
I like pediatrics because it is not a cookie-cutter field. People don't realize this, but pediatrics is complex because the nature of what a child could have changes with the age. Pediatrics brings a level of complexity that you do not find in other fields of medicine.
When and why should families seek out urgent care instead of emergency care?
A lot of times, patients will slow down the emergency room with conditions that should be treated at an urgent care facility. Urgent care is great for lower acuity conditions, but we can also see patients for conditions that couldn't be seen at their primary physician, such as broken bones and lacerations. Families are also under the impression that urgent cares won't accept their insurance if they are utilizing a specialty insurance plan, such as Medicaid. While this might be the case for some facilities, we are different. Here at Urgent Care for Kids, we proudly accept all commercial and Texas specialty insurances, including Texas Medicaid. We also offer one of the most competitive cash-pay rates in the state. Don't hesitate to give one of our friendly team members a call to learn more.
What would you say to a parent who wanted to know more about the level of care provided at UCK?
Urgent Care for Kids is pediatric oriented. Everybody who is in the clinic pulls from all the knowledge that is specific to pediatrics. Other urgent cares might see adults and kids, but they don't have the level of understanding in pediatrics that they should. From the patient bedside manner to the facilities we use on a daily basis, we truly are a patient-first organization.
What do you love most about UCK?
I love my work family. You spend more time with your coworkers than anywhere else during the week. It is important to love the people you're surrounded with.
---
Urgent Care for Kids is the largest pediatric urgent care chain in Texas, serving families in the greater Austin, DFW, and Houston areas. Our goal is to provide every patient with the highest quality medical care and superior customer service at a time and location that is convenient to working parents. We accept all major commercial insurance plans and all Texas Medicaid and CHIP plans in order to best serve our patients and their families. To learn more about our locations, hours, and services we provide, please visit our website.