In this day and age, it's important to instill healthy media habits in children. Encouraging kids at an early age to exercise online responsibility is something easy parents alike can do in subtle yet impactful ways. Check out these tips courtesy of Common Sense Media: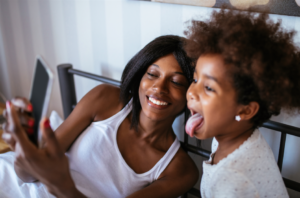 Parent-Approved Content: Do some research on the content your kids are downloading or watching. Most games, videos and other media come with a rating like movie showings in theaters. If you're not comfortable with the level of maturity,  filter this media and explain to your child why that is.
In the Background: Powering down the television when no one is watching is a great way to maximize family time. While a minor adjustment, eliminating background noise promotes interactions between parents and their children with minimal distractions.
Enjoy Together: Make time to enjoy a show or activity together. This applies to reading books together as well. Simply cracking open a book before bedtime or on a lazy afternoon provides a great opportunity to bond and reflect on important messages learned.
Walk the Walk: It's no secret kids are watching us and take after our actions. If there's a limit on TV time, model the behavior you're teaching. No cell phones at the dinner table? Set yours aside too. Your children will recognize the fairness and be more inclined to follow your lead.
Did you find this article helpful? Want to share your tips with us and other parents in your community? Leave your comments below or on our Facebook, Instagram and Twitter.
---
Urgent Care for Kids is the largest pediatric urgent care chain in Texas, serving families in the greater Austin, DFW, and Houston areas. Our goal is to provide every patient with the highest quality medical care and superior customer service at a time and location that is convenient to working parents. We accept all major commercial insurance plans and all Texas Medicaid and CHIP plans in order to best serve our patients and their families. To learn more about our locations, hours, and services we provide, please visit our website.