When kids arrive home from school, they are often hungry. Cure that after-school hunger with these easy and delicious snack ideas that are filled with nutrients needed for proper growth and development. These kid and parent approved snacks are a tasty and healthy way to end the school day!
Apple Trail Mix "Cookie"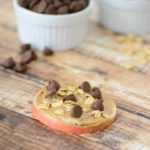 Ingredients:
1 small apple
Peanut butter
Granola
Chocolate chips
Directions:
Core the apple and slice horizontally to make apple circles.
Remove excess moisture from apple slices with a paper towel.
Spread peanut butter evenly on the apple slice.
Top with granola and chocolate chips
Source: Almost Supermom
"Ants on a Log"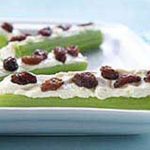 Ingredients:
Celery
Cream cheese
Raisins or dried cranberries
Directions:
Spread on cream cheese.
Top with raisins or dried cranberries.
Source: My List of Lists
"Sour Patch Grapes"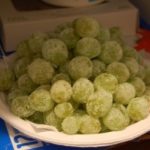 Ingredients:
1 pound of green seedless grapes, pulled from the stems and rinsed
1 3-oz. package of Melon Fusion Jell-O (NOT prepared)
Water
Directions:
Rinse the grapes under water until all are clean and wet.
Spread the gelatin mix on a plate, about 1/3 at a time.
Place a handful of grapes on the plate and gently roll each grape in the gelatin powder until it is covered.
Place the coated grapes into a bowl and repeat the process with the remaining ingredients until all of the grapes are covered.
Place the bowl and let set in the refrigerator for at least 1 hour, until the gelatin is set.
The colder these are, the better they taste!
Source: Pure Sugar
Nutella and Banana Sushi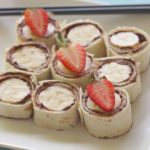 Ingredients:
2 tortillas
4 tbsp. Nutella
2 bananas
Directions:
Spread the Nutella all over the tortilla.
Lay the peeled banana on the edge of the tortilla.
Roll the banana up in the tortilla.
Cut into slices, and top with strawberries, other fruits, or just eat it plain!
Source: Kidspot
Orange Creamsicle Fruit Dip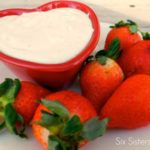 Ingredients:
1 (8 oz.) package of cream cheese, softened
1 (8 oz.) jar of marshmallow creme
1/4 cup fresh orange juice
2 tsp orange zest
1/4 tsp vanilla extract
Fresh fruit for dipping (strawberries, bananas, grapes, melon, cantaloupe, pineapple, etc.)
Directions:
Beat cream cheese and marshmallow creme together.
Next, add orange juice, vanilla, and orange peel.
Mix together and chill until serving.
Source: Six Sisters Stuff
Do you have any more ideas for healthy and delicious after-school snacks? Let us know in the comments!