For this week's Provider Spotlight, we are excited to feature Dr. Phuong Luu! Dr. Luu is one of our Houston-area providers, working mainly at our clinics in Spring and the Woodlands. She has been with Urgent Care for Kids for a little over two years now, and we are so thankful to have such a caring and knowledgeable full-time provider on staff.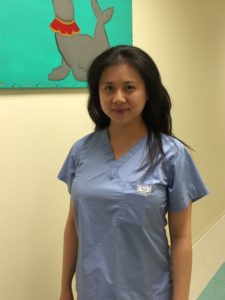 Q: Dr. Luu, tell us why parents should let you care for their children.
A: I went to medical school at Texas Tech School of Medicine and did my Residency in Pediatrics at the University of Texas Medical School in Houston. After residency, I became board certified in Pediatrics by the American Academy of Pediatrics. Urgent care is my passion and I have been with Urgent Care for Kids since it opened in Houston.
Q: Why did you choose to specialize in pediatrics?
A: I love working with children because I am a big kid myself!
Q: What is your favorite thing about working at Urgent Care for Kids?
My patients, the staff, and the nice facility.
Q: What is your favorite thing about living in Houston?
I love the warm winters here and all the great restaurants.