Today, we have a guest post by Lisa Moss, an experienced educator. She is sharing her tips from a teacher's perspective on things parents can do at home to help their children achieve their highest potential at school.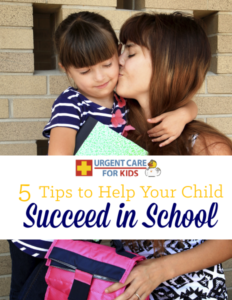 Once again it is time for your child to go back to school.  Whether your child is an academic genius, star athlete, musical prodigy, or just a normal, everyday kid, you want them to have a successful school experience. Here are some suggestions for helping your child have a productive year at school:
1. Establish Routines and Expectations
Making sure to establish routines and expectations for getting ready for school, homework, and bedtime will enable things to run more smoothly and get done efficiently.  Encourage your child to get homework done as soon as possible when they get home after a quick snack and break.  This way they will be free to do whatever else is needed in the evening and get to bed at their designated time.  Homework for younger kids (ages K-2nd grade) should take no longer than 10-15 minutes each night.  If it takes longer, allow them to have a short break and come back to it to allow for short attention spans.
2. Talk About It
Take time to discuss the day's events with your child at some point during the afternoon/evening.  Listen to your child's concerns and discuss ways of problem-solving issues that come up. Many families use dinner as a sharing time for the day.
3. Read Together
At bedtime, take time to read to your child. As you read to your child, take the opportunity to discuss characters, events, and problems in the story and ask them to make predictions about the story or possible outcomes for problems in the story or what would happen if the story had ended differently.  Discuss unknown words in the story to develop their vocabulary.  Reading before bedtime serves to calm your child for restful sleep, provides vicarious experiences, and helps to develop thinking skills necessary for continued learning in and out of the classroom.  Many children want their parents to continue to read to them as late as 5th or 6th grade.  If older children want to discontinue the practice of you reading to them, they may want to read to themselves before bedtime.  Have children put away technological devices such as cell phones, video games, or limit computer use at least 45 minutes to an hour before bedtime, as these have been known to overstimulate children and cause them to have trouble falling asleep.
4. Be Involved
Being visible at your child's school will help your child and  school personnel to know that education is important to you.   Attending school parties, book fairs, and parent conferences will cause you to develop a relationship with those involved in your child's education.  Getting help for your child in areas of academic difficulty before they start to struggle significantly is crucial.  Teachers are more than willing to assist with learning problems that arise and should be willing to find out where to get help if they do not know.  If you suspect your child is struggling with a concept at school, contact the teacher as soon as possible in order to obtain strategies for support.
5. Celebrate Your Child's Strengths
It is imperative to celebrate your child's strengths and help them overcome and cope with their weaknesses.  Genuinely praising their efforts and successes goes a long way in helping them see their uniqueness and importance.  If your child struggles with school, get them help and support for those areas. Encourage them to be involved in an extracurricular activity where they can be successful.  Dance lessons, gymnastics, being on a sports team, taking music lessons or learning karate are valuable activities to teach children self-confidence, perseverance, getting along with others, and teamwork.
If you establish routines and expectations, listen to your child and support them, and are involved in school activities, you will go a long way in assisting your child to feel successful, loved, and special.  Hopefully this will cause them to have a wonderful school experience!
About the Author:
Lisa Moss is a Dyslexia Interventionist at Chapel Hill ISD in Tyler, Texas. She has a Bachelor's degree in Elementary Education from East Texas Baptist University, and a Master's of Education from Stephen F Austin State University. She has taught elementary students for 22 years. Lisa has been married for 27 years and has two adult daughters. She enjoys cooking, being with her family, and traveling.
Urgent Care for Kids is the largest pediatric urgent care chain in Texas, serving families in the greater Austin, DFW, and Houston areas. Our goal is to provide every patient with the highest quality medical care and superior customer service at a time and location that is convenient to working parents. We accept all major commercial insurance plans and all Texas Medicaid and CHIP plans in order to best serve our patients and their families. To learn more about our locations, hours, and services we provide, please visit our website.