Warning: Beware of werewolfs, mummies and witches in your neighborhood! OK – maybe we are exaggerating.
Halloween is just around the corner, and our little creatures will be on the prowl for sweets. Even adults get in on the fun these days! Trick or treating is one activity so many families look forward to, but it can be easy for kids to get caught up in all of the action and find themselves in a dangerous situation. Before you take to the streets, consider these Halloween night safety tips: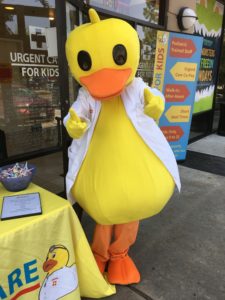 1. Use the Buddy System
If your children are going trick or treating with friends, encourage them to stick with the group. Instruct them to never go off by themselves and be aware of their surroundings. If you're walking, carry a flashlight for those dimly-lit streets, and be sure to drive slow and look both ways if you're in a car.
2. Use Common Sense
When going door to door, remind your kids to avoid houses without lights on and never go inside a stranger's house. Keeping to the sidewalks and being mindful around animals are also good precautions to keep in mind.
3. Safety Over Style
While long, flowing Queen Elsa costumes and big, scary masks can be a lot of fun, they can also get in the way. Make sure your child won't trip over his or her costume, sees clearly out of any mask and wears sturdy shoes that will be comfortable for walking all night. With chilly temperatures already settling in, a coat is never a poor way to beat the October chill. It's also a good idea to stick to bright colors for easy visibility.
4. Test Your Treats
Be sure to sort through your little one's candy loot when they get home. Check for opened and unwrapped treats or anything that looks suspicious and throw it away. You can also sneak a few pieces for yourself while you're at it! Does your child have food allergies? Be on the look out for teal pumpkins at doorsteps that symbolize allergy-free treats ahead!
Hopefully these tips will help you and your kids have a safe and only slightly scary Halloween! Do you have any Halloween safety tips to add? Let us know!
---
Urgent Care for Kids is the largest pediatric urgent care chain in Texas, serving families in the greater Austin, DFW, and Houston areas. Our goal is to provide every patient with the highest quality medical care and superior customer service at a time and location that is convenient to working parents. We accept all major commercial insurance plans and all Texas Medicaid and CHIP plans in order to best serve our patients and their families. For medical opinions, please visit with our medical staff at our urgent care locations. To learn more about our locations, hours, and services we provide, please visit our website.