Today, we're debuting a new blog series, Get Fit Friday! Physical fitness is very important to overall health, even in kids. In this series, we will share tips on how to make fitness fun, creative ways to get kids moving, steps to take to make fitness a healthy habit, and more! Lace up your sneakers and let's get moving!
This time of year, especially in Texas, the heat can deter even the toughest kids from playing outside, which can lead to a few summer couch potatoes in your house! While it's definitely wise to be cautious in this weather, there are plenty of ways to get moving without risking a heat stroke. Here are a few ideas: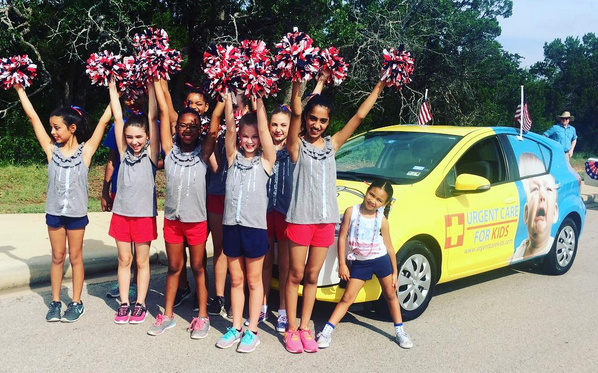 1. Go Swimming!
This may be an obvious choice, but the coolest way to get some exercise this summer is by jumping in the pool! Bring the diving rings, play Marco Polo, or race across the pool. Don't have access to a pool? Setting up a Slip-n-Slide in the backyard or finding a local splash pad works just as well!
2. Set up an Indoor Obstacle Course
If you've got a lot of free space, set up an obstacle course for your little ones to race through! Get creative-use boxes to crawl through or jump over, cones or other objects to run around, and anything else you can find. If your little ones are competitive, have them race each other or the clock! If you don't have a large space in your house, try setting this up in a shady spot in the backyard!
3. Take an evening bike ride or walk
Luckily, it gets a little cooler once the sun starts to go down! Take a family bike ride or stroll around the neighborhood at dusk rather than in the middle of the day. Just be sure to wear bug spray!
What are your favorite ways to stay active during the hot summer months? Let us know!
Urgent Care for Kids is the largest pediatric urgent care chain in Texas, serving families in the greater Austin, DFW, and Houston areas. Our goal is to provide every patient with the highest quality medical care and superior customer service at a time and location that is convenient to working parents. We accept all major commercial insurance plans and all Texas Medicaid and CHIP plans in order to best serve our patients and their families. To learn more about our locations, hours, and services we provide, please visit our website.