---
Physical fitness is very important to overall health, even in kids. In this series, we will share tips on how to make fitness fun, creative ways to get kids moving, steps to take to make fitness a healthy habit, and more! Lace up your sneakers and let's get moving!
---
Trotting with Tots is a group of exercise-friendly, hardworking mama's who meet on a weekly basis and go on various runs across Austin, with their strollers in tow. When it comes to everyday fitness and where to begin, we went to Loren McEllin, the founder of Trotting with Tots to answer all of our questions!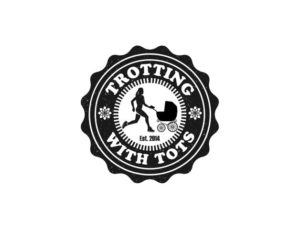 What made you want to start Trotting with Tots?
When we first moved to Austin in the early Spring of 2014, we didn't really know anyone. Sure, my husband had his co-workers, but they were mainly single and/or without kiddos.  In addition, we really wanted to be able to socialize our son, who was 19 months old at the time, without having to pay a huge chunk of money for daycare—especially since I was planning on being a stay at home mom for awhile.  So after some brainstorming, and some stroller-toting runs (because how else was I to exercise during the day?), Trotting with Tots was born.  May 2014 was our first meet-up at Town Lake along Lady Bird Trail, and we had a very good turnout. Over half of the members who participated that day are still very active members of the group today!
When you're having a tough day on which you don't feel like a workout, what inspires you to go out there and do it?
We all have our tough days, especially when our minions are not cooperating or when we have recently added a new member to the family (i.e. a newborn), but there is nothing better than the way you feel after a workout with the group.  My little ones also help inspire me by looking forward to our runs.  They know they will have the opportunity to see their friends and play if they cooperate while mommy has her 'me time' (better described as the time when Mommy is running and endorphins are kicking in!).  It's certainly nice knowing you can meet with friends that have similar interests, get in a good workout (or therapy session), see your children smiling and laughing with the friends they've made, all while they're expensing energy, playing outside and getting prepped for a good nap.
What are some of your favorite exercises that you don't have to go to a gym for?
Running in the great outdoors.  This beautiful city is made for outside fun!  There are so many parks, trails, splash pads, swimming pools, etc. that residents are able to take advantage of, so why wouldn't we?  We meet all over Austin, up to 5 times a week—from Georgetown to Buda—and we experience it all on foot.  It's amazing what you don't notice in a car that you truly cherish when you see it up close.
It's also wonderful being able to exercise with the kids, and teach them about the importance of staying healthy.  By running with them, we are setting a very good example.  My oldest kiddo often will chant from the stroller when he sees a big hill coming, 'Come on Mommy, you can do it!'  Melts my heart and helps me get up that hill even on the toughest of days.
What advice would you give to a busy mom who cares about her health just starting out on her fitness journey?
We have ALL been there!  I know sometimes groups of Moms, such as Trotting with Tots, can feel overwhelming for so many reasons—friendships have already been made, people are running further and faster than me, I don't want my kids to embarrass me, etc.  Again, we have ALL been there.  I think I have, hands down, one of the most embarrassing stories that a Mom could have while exercising with her kiddos, and if you ever want to know so that you feel better about making a start, I'd be more than happy to share!  Yes, friendships have been made in the group, but we have plenty room for more.  We are not a clique, we do not talk poorly about one another, we do not judge. We support one another, our children and our partners.  This group has been a life-changer for me, and I hear the same from other members.  Its our shrink, our second set of ears and eyes, our vice, our sanctuary— it is whatever you need it to be.  Start slow, just meet for play times at first if need be, get to know us and I promise you'll be addicted.
Want to learn more or join in on the fun?  Here's the link to our website:
http://www.trottingwithtots.com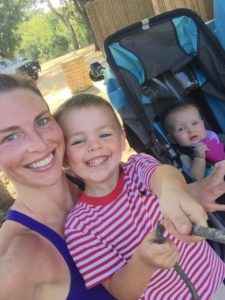 Loren is the founder and leader of Trotting with Tots. She logs dozens of miles every week, with two kids in tow. She makes sure the group runs are spread out from Pflugerville to Buda so all members have a chance to trot on their home turf. In her spare time, she enjoys being with her family, designing custom sheets and shirts, cooking meals for people in need, and photography.
---
Urgent Care for Kids is the largest pediatric urgent care chain in Texas, serving families in the greater Austin, DFW, and Houston areas. Our goal is to provide every patient with the highest quality medical care and superior customer service at a time and location that is convenient to working parents. We accept all major commercial insurance plans and all Texas Medicaid and CHIP plans in order to best serve our patients and their families. To learn more about our locations, hours, and services we provide, please visit our website.