As we get ready to ring in the new year, our Urgent Care for Kids team has reflected upon what matters to us most. Family. This most recent holiday season has brought the importance of family and community to front of mind, and we as an organization want to echo this into 2018. That is why we are hosting a food drive for the North Texas Food Bank and Houston Regional Food Back until January 18! These organizations are right in our DFW and Houston backyards, and we want to make a meaningful impact in the communities we care so deeply about. We love the selfless service and amazing programs that embody these nonprofits, and we hope you'll join us in giving back!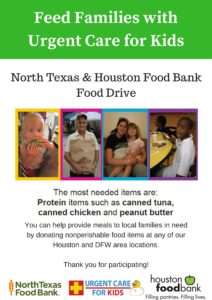 Urgent Care for Kids is accepting nonperishable food donations, such as canned goods, through January 18. You can drop these items off at any of our DFW and Houston locations during business hours. The North Texas Food Bank and the Houston Regional Food Bank are always accepting items and time donations. To learn more about acceptable, physical donations, click here.
According to their website, the North Texas Food Bank (NTFB) is a top-ranked nonprofit relief organization, providing access to more than 190,000 meals each day for hungry children, seniors and families through a network of more than 1,000 programs and 200 Partner Agencies in our 13-county service area. In fiscal year 2016, NTFB provided access to some 70 million meals but the need for hunger relief in North Texas today is much larger.  To combat increasing food insecurity in North Texas, the Food Bank recently launched a 10-year plan to provide access to 92 million nutritious meals annually by 2025.  NTFB is a member of Feeding America, a national hunger relief organization.
According to their website, the Houston Food Bank is America's largest food bank in distribution to its network of 600 hunger relief charities in 18 southeast Texas counties. Named top charity in Texas by Charity Navigator for financial performance and accountability, the Houston Food Bank provides 83 million nutritious meals to food pantries, soup kitchens, senior centers and other agencies, feeding 800,000 people each year. Fresh produce, meat and nonperishables are distributed from the warehouse, and hot meals are prepared and distributed from the new Keegan Kitchen, a 10,000 square foot, state-of-the-art industrial kitchen. Additional community services range from nutrition education to assistance with food stamp applications and hands-on job training. Red Barrels offer a convenient way for grocery shoppers to donate nonperishables for their neighbors in need.
For more information on how you and your family can help a local family in need, please call any of our Urgent Care for Kids locations today.
---
Urgent Care for Kids is the largest pediatric urgent care chain in Texas, serving families in the greater Austin, DFW, and Houston areas. Our goal is to provide every patient with the highest quality medical care and superior customer service at a time and location that is convenient to working parents. We accept all major commercial insurance plans and all Texas Medicaid and CHIP plans in order to best serve our patients and their families. For medical opinions, please visit with our medical staff at our urgent care locations. To learn more about our locations, hours, and services we provide, please visit our website.