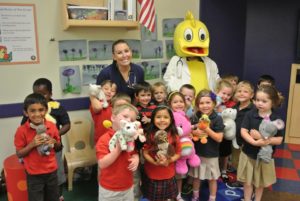 The transition into Kindergarten is a big step for kids. Some say it is the biggest transition one can experience! This is an exciting time with lots of growth and changes.
These tips can help ensure a smooth transition for your little Kindergartners:
1. Consistent Bed and Wake up Times: Having consistency in their early bedtimes and wake up times will create good habits. Their little brains need rest, especially after a long day of learning! If school starts on Monday, start the consistent bed time routine a couple days before to get their bodies used to the schedule. This way, when school does start they are not in complete shock and struggling with being overtired.
2. Talk Talk Talk: Create a dialogue about about what school is going to be like for them. Talk about respecting others. Talk about listening to the teacher. Talk about privacy in the bathroom. Allow your child to talk and ask questions freely, this way they will feel more prepared for what is to come.
3. Practice Makes Progress: If this is a child's first time at school, it is possible that they have never had to raise their hand to speak, close the door when using the bathroom, or sit still for long periods of time. Before school starts, practice these tasks at home.
4. Visit: Going new places and trying new things can be a daunting task. The transition into kindergarten can be made easier if you plan a visit to the school and to their teacher before the big first day. That way when you drop them off they will see a friendly, familiar face and feel more comfortable without Mom or Dad there.
 5. Balanced Healthy Breakfast: On the first day of school, make sure your child gets a balanced and healthy breakfast. This will fuel them for the day and help them stay focused at school.
Kindergarten is a wonderful time for kids and Kindergarten teachers are a special breed of people built with the patience and kindness to help shape these little minds. Enjoy the ride and a smooth transition!
Have a little one starting kindergarten? Send us your first day of school photos using the hashtag #UC4Kschool!
Urgent Care for Kids is the largest pediatric urgent care chain in Texas, serving families in the greater Austin, DFW, and Houston areas. Our goal is to provide every patient with the highest quality medical care and superior customer service at a time and location that is convenient to working parents. We accept all major commercial insurance plans and all Texas Medicaid and CHIP plans in order to best serve our patients and their families. To learn more about our locations, hours, and services we provide, please visit our website.