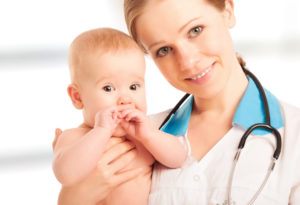 Easing Your Child's Fear of Doctors
No one really looks forward to a trip to the doctor. However, merely uttering the word doctor in front of some children can cause waves of anxiety. As a parent, there are multiple steps you can take in order to ease their anxiety.
Bring Their Favorite Toy
Bringing your child's favorite toy to a doctor's visit helps in both the waiting room and in the exam room. While in the waiting room the toy will help occupy your child in case you encounter a wait. The toy can then transition into the exam room as a comforting object to hold onto.
Be Comforting
If your child is younger, simply sitting on the table next to them in the exam room can calm their nerves. Kids notice the actions of their parents—if you are acting anxious this will only worsen their fears. The calmer you act the more at ease your child will ultimately feel.
Read Books and Act 
Reading books to your child about their favorite characters visiting the doctor is a great tool to ease anxiety. This will allow them to see that if their favorite character can go to the doctor then they can too. Check out these books about going to the doctor: Corduroy Goes to the Doctor, Going to the Doctor, and Does a Hippo Go to the Doctor? If you have a play doctor's kit in the house you can demonstrate on one of their stuffed animals how they can expect to have their heart listened to. These activities will help prepare your kiddo for their visit.
Ultimately, let your child know that everyone has to visit the doctor now and again, and that doctors are here to make sure everyone stays as healthy as possible. While the previous steps may not eliminate their fears all together, they will certainly make their next visit more enjoyable.