Urgent Care for Kids is hosting a diaper drive for Christ's Haven for Children. This is a group foster home in our very own Keller, Texas. We love the selfless service and amazing programs Christ's Haven has for at-risk youth. So we thought it was time to give back!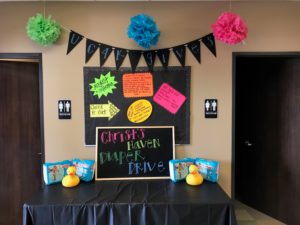 Urgent Care for Kids is accepting diaper donations and other baby items, such as baby food and wipes, through the end of September! You can drop these items off at our Keller location during business hours. Christ's Haven is always accepting item and time donations. They have opportunities year-round to volunteer. In fact, an exciting opportunity is just around the corner – the Fall Work Day on September 9th.
Christ's Haven has been serving the Keller community since 1956. Today, Christ's Haven has five cottages, a Community Enrichment Center, a Life Path house, a gymnasium and a chapel. The children receive medical and dental care, counseling and tutoring as needed in a warm and loving home under the care and guidance of full-time house parents. Through the years, over 5,000 children have been served by this program. Those who move on and become responsible citizens in society give testament that Christ's Haven for Children has made a tremendous difference in their lives and the north Texas community
For more information about Christ's Haven and their volunteer opportunities, visit their website here.
---
Urgent Care for Kids is the largest pediatric urgent care chain in Texas, serving families in the greater Austin, DFW, and Houston areas. Our goal is to provide every patient with the highest quality medical care and superior customer service at a time and location that is convenient to working parents. We accept all major commercial insurance plans and all Texas Medicaid and CHIP plans in order to best serve our patients and their families. For medical opinions, please visit with our medical staff at our urgent care locations. To learn more about our locations, hours, and services we provide, please visit our website.