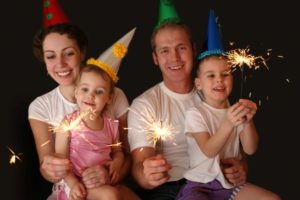 When you become a parent, the way you celebrate New Year's Eve tends to change dramatically. Making the change from a late night party with your adult friends, to an early night with the kids can be both exciting and fun. Tonight, as you ring in the New Year with your little ones, make it memorable with new traditions and fun activities.
Make Your Own Decorations
Don't waste time and money buying decorations this year. It's much more fun and memorable to make your own. Use leftover wrapping paper, confetti, and pipe cleaners to make fun party hats and tiaras. You can also use paper plates, yarn, and beads to make noise makers. Let your kids get creative, and see what they come up with! After they finish, let them put on a mini fashion and take plenty of photos.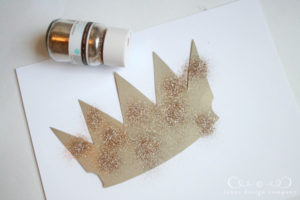 Have a Long Countdown
Don't limit the countdown to ten seconds before midnight. Let the countdown begin when the party begins. Have balloons taped to the wall, and every 30 minutes, let one of the kid's pop one. You can make it even more fun by having an activity or prize written on a slip of paper inside of each balloon. This will add to the excitement, and keep the kids entertained all night! This year, Netflix is offering an early countdown option for you! You can start playing it at any time during the night, so if you want your kids in bed by 9:00pm, you can do a countdown with King Julian (from Madagascar) at 8:30pm.
Make It Fun
Plan a memory lane scavenger hunt by simply placing clues all over the house with photos from 2014 taped to the back. At the end of the scavenger hunt, have the kids arrange the photos by the month they were taken, and let them talk about each one. They will love talking about their trip to Disney, or their first soccer game. You can also play a homemade game such as New Year's Ball Game by Sparkly Polliwog, or get creative and make your own!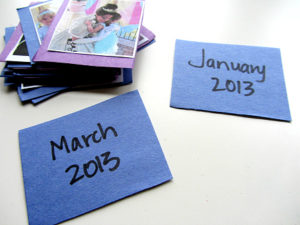 Make it Memorable
Remember, that your guest list is a bit different this year. Unlike your adult guests, your kids won't get caught up in how cute your decorations were, or how creative your menu was. They will have more fun if they can be involved in the planning and simply spend time with you. We encourage you to take lots of photos, and enjoy a relaxing, fun night with your family! Visit our Urgent Care for Kids Pinterest page for more on New Year's Eve Activities!