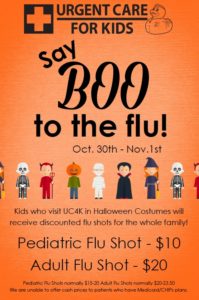 The chilly weather has settled in as we approach the end of October. Now is the perfect time to receive your vaccine – in style!
Bring your family into any Urgent Care for Kids location to receive discounted flu vaccines from October 30 – November 1. Children can receive a pediatric flu shot for $10 and adults may receive a vaccine for $20. All patients dressed in their Halloween costumes are eligible, so don't miss out on giving the flu the BOO! Upon arriving, feel free to utilize our easy online check-in feature to schedule your appointment and give our friendly staff a call to ensure your insurance will be accepted.
Not sure about the benefits of the flu vaccine? Check out our previous post about prepping for the flu featuring our talented Medical Director, Dr. Kristi Whitenton.
Stay healthy, and Happy Halloween from our family to yours!
---
Urgent Care for Kids is the largest pediatric urgent care chain in Texas, serving families in the greater Austin, DFW, and Houston areas. Our goal is to provide every patient with the highest quality medical care and superior customer service at a time and location that is convenient to working parents. We accept all major commercial insurance plans and all Texas Medicaid and CHIP plans in order to best serve our patients and their families. For medical opinions, please visit with our medical staff at our urgent care locations. To learn more about our locations, hours, and services we provide, please visit our website.