At Urgent Care for Kids, we understand it can be inconvenient or overwhelming when your little one becomes sick and a trip to the doctor is in order. That's why we foster an at-ease and secure environment every day of the year for our families because we believe in offering quality, pediatric care when you need it the most. While we can't always avoid illnesses, it pays off to take preventative steps for your child's health and safety. The same logic applies in disasters.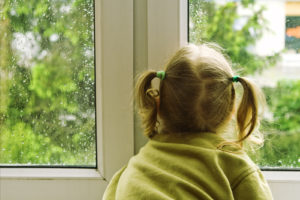 What's your plan? The Department of Homeland Security encourages you and families everywhere to be informed, plan ahead and be ready to take action should an emergency arise. Summer is the perfect time to sit down with everyone in your household and agree on what to do in the event of a fire, flood, power outage, etc. Disasters don't plan ahead, but you can. Here are a few great steps to get you started:
Communication Is Key: Knowing where to meet and who is responsible for what before disaster strikes is crucial. Your family may only have a minutes notice, so make sure you outline a clear and sound plan ahead of time. You may want to establish how you will receive emergency alerts and warnings as well. Check out The Federal Emergency Management Agency's Family Emergency Communication Plan for more in–depth preparation steps.
Have Insurance: Some insurance plans don't cover all disasters, like fires and flooding. In fact, floods are the most common and costly natural disaster, according to FEMA, Just a few inches of water can cost thousands of dollars in damage, so consult with your provider today to ensure you understand what your plan covers.
Dial 911: We've often seen news stories about a child making a brave phone call to law enforcement while an adult was unable to. While these events are chilling, talking to your children about dialing 911 at an early age is very important.
Consider Certification: There are several community centers in your area offering CPR certification. It's never a bad idea to know how to resuscitate an adult or child when your family takes to the pool this summer.
Practice Makes Perfect: Lead a few drills with your family to make sure everyone understands and is comfortable with your emergency response plan. And hopefully you won't ever have to use it!
Did you find this article helpful? Want to share tips with us and other parents in your community? Leave your comments below or on our Facebook, Instagram and Twitter.
---
Urgent Care for Kids is the largest pediatric urgent care chain in Texas, serving families in the greater Austin, DFW, and Houston areas. Our goal is to provide every patient with the highest quality medical care and superior customer service at a time and location that is convenient to working parents. We accept all major commercial insurance plans and all Texas Medicaid and CHIP plans in order to best serve our patients and their families. To learn more about our locations, hours, and services we provide, please visit our website.