---
Physical fitness is very important to overall health, even in kids. In this series, we will share tips on how to make fitness fun, creative ways to get kids moving, steps to take to make fitness a healthy habit, and more! Lace up your sneakers and let's get moving!
---
Having an active lifestyle is so important to overall health, and yet it is so easy to fall into a sedentary lifestyle. Understanding the benefits of exercise can help you and your family begin healthy habits such as cardiovascular exercise and strength training. However you choose to get moving, it's important that you do. This week, we invited fitness experts, Jami and Eryn with Nema Verda, to share some of the benefits of exercise!
Cardiovascular exercise benefits
Strengthens your heart muscle, yes your heart is a MUSCLE
Reduces fat, while building muscle
Helps build type I muscle fibers, which are good for endurance and last for long periods of time
Reduces stress and anxiety
Increases the rate of various processes in your body, known as your metabolism
Strength Training benefits
Increases bone density, which is extremely important to maintain when getting older. Our bones lose their density as we age, especially in women causing osteoporosis
Builds muscle density which helps decrease your body fat
Increases your HDL cholesterol (good cholesterol), while decreasing your LDL (bad cholesterol)
Improves your overall body flexibility, which reduces the risk of muscle pulls and back pain
More muscle = more calories burned at rest. For every 3 pounds of muscle built, burns an additional 120 calories per day at rest
Differences cardio vs strength
Cardio burns more calories per minute (average 10-12), versus strength training (average 8-10)
You burn more calories after strength training because your body is trying to help your muscle recover
---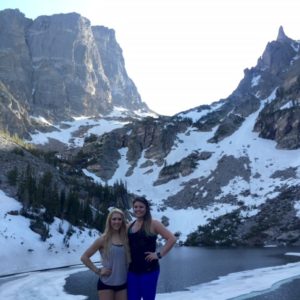 Jami and Eryn both have Bachelors in Exercise Sports Science degrees from Texas State. Both lovers of adventure, sports, and fitness, they came together and created Nema Verda in 2016. In their freetime, they enjoy any outdoor activity and traveling!
A message from Jami and Eryn: As humans we evolve in order to survive and adapt to our surroundings. We need balance in order to maintain a long and healthy life. From work to family to our own happiness, we must find the perfect balance. The same goes for exercise. We must have cardiovascular endurance while obtaining brute strength. It is important to include both types of exercises in your weekly exercise routine. Taking all of this into account, this is why we created Nema Verda. We felt that people need help when it comes to "the perfect balance." We have put together multiple programs that include both strength and conditioning, and nutritional guidance. All workouts can be done under an hour at your home, gym, or any outdoor setting.
For more information about Nema Verda visit their page at www.nemaverda.com
---
Urgent Care for Kids is the largest pediatric urgent care chain in Texas, serving families in the greater Austin, DFW, and Houston areas. Our goal is to provide every patient with the highest quality medical care and superior customer service at a time and location that is convenient to working parents. We accept all major commercial insurance plans and all Texas Medicaid and CHIP plans in order to best serve our patients and their families. To learn more about our locations, hours, and services we provide, please visit our website.
---