Wait a minute. You mean your kids aren't excited to go back to school?
The back-to-school blues are no fun for any parent or little one. It is normal for the approaching first day back to cause some level of anxiety, especially if your family is transitioning into a new school. Fortunately, there's good news! The new academic year is a fresh start that brings so much excitement to look forward to. If your family is struggling to get out of the summer swing, here are our best tips to get you ready for class:

1. Gear Up: This time of year also means something else – sports! Reminding your young athlete about their favorite games or meets they had last year will definitely help them feel more eager returning to school. If your child is in need of a sports physical for their extracurricular activities (football, band, swim, etc.) swing by our conveniently located clinics for a $15 sports physical.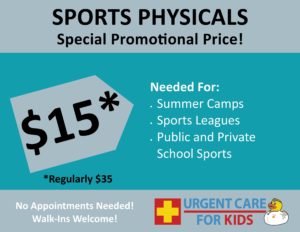 2. Dress to Impress: There's nothing like starting a new year with new accessories and school supplies for any girl or boy. Whether its new shoes, a backpack or glasses, looking sharp and feeling sharp are one in the same.
3. Soak Up the Sun: Ending the summer on a high note is a great way to go out with a bang. It can be anything from a barbeque by the pool, camping trip to even a fun movie night in! Taking time to reflect on happy and fun memories is what matters the most.
4. Spark Old Friendships: Nothing is more uplifting than seeing an old friend. Encourage your children to message friends they lost touch with over the summer. The first day back suddenly becomes a big reunion!
5. Start a Routine: Whether your family is a few weeks or days out from the beginning of classes, start setting bedtimes, limiting television and media time and making healthy meals a habit so your kids are on track when schoolwork begins.
---
Urgent Care for Kids is the largest pediatric urgent care chain in Texas, serving families in the greater Austin, DFW, and Houston areas. Our goal is to provide every patient with the highest quality medical care and superior customer service at a time and location that is convenient to working parents. We accept all major commercial insurance plans and all Texas Medicaid and CHIP plans in order to best serve our patients and their families. For medical opinions, please visit with our medical staff at our urgent care locations. To learn more about our locations, hours, and services we provide, please visit our website.