As well as providing superior pediatric care for your little ones, Dr. Whitenton has an array of knowledge of helpful tips for your family! Today she is here to explain why you should think twice before jumping into the commitment of a family pet!
Check out her advice below:
So you think your family is ready for a pet?  Many families start small with pets like fish or turtles, but kids often bore quickly with fish they can't hold, and turtles can spread salmonella.  Rodents live in cages that must be cleaned often and don't live very long.  Cats can be playful, but sometimes have issues with scratching unexpectedly.  That brings us to dogs.  Dogs are the most popular pets in the US, and kids can easily participate in their care. Small children can help with putting away pet toys, bath time, and putting water in the dish.  Learning to be safe around dogs at home will prepare them for visiting friends and family who have dogs.  Teach them to be calm around dogs.  No poking or pulling is allowed, including hugging.  Though this seems like affection, it can be threatening for a dog to feel squeezed around the neck.  Make sure kids know to only approach a dog if it can see the child, and let sleeping dogs lie—don't wake them suddenly.  Only let kids approach dogs if the dog's tail is wagging and it is moving in a friendly way toward the child.  Having kids understand a dog's body language can prevent bite or scratch injuries from an unfamiliar pet.  Also teach kids to never approach a dog that isn't known to them.  The rewards of having a family pet that encourages outdoor play, taking walks, and learning responsibility can enrich the entire family.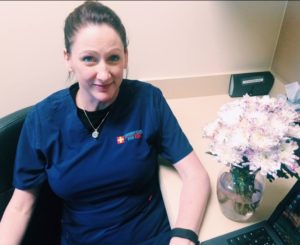 Dr. Kristi Whitenton is a graduate of the University of North Texas Health Science Center in Fort Worth, followed by general pediatrics residency at the University of  Texas Health Science Center at San Antonio.  After two years of additional training in pediatric critical care, she became a medical director for Little Spurs Pediatric Urgent Care in San Antonio.  In August 2014, she joined Urgent Care for Kids as the medical director for the Austin area.  She is a fellow of the American Academy of Pediatrics and has a son attending Southern Methodist University in Dallas.  In her spare time, she enjoys running, baking, and supporting the visual and performing arts.
Urgent Care for Kids is the largest pediatric urgent care chain in Texas, serving families in the greater Austin, DFW, and Houston areas. Our goal is to provide every patient with the highest quality medical care and superior customer service at a time and location that is convenient to working parents. We accept all major commercial insurance plans and all Texas Medicaid and CHIP plans in order to best serve our patients and their families. To learn more about our locations, hours, and services we provide, please visit our website.