FORT WORTH, TX – Urgent Care for Kids acquires Pediatric Urgent Care of Fort Worth located at 3400 Texas Sage Trail effective March 1, 2018. This marks Urgent Care for Kids' fifth Dallas-Forth Worth clinic venture and third addition to their north Texas portfolio in the last eight months. Urgent Care for Kids in Alliance is open from 12 p.m. to 9 p.m. on weekdays and 9 a.m. to 9 p.m. on weekends.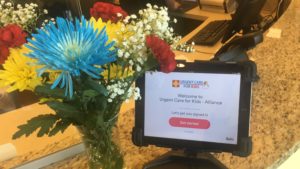 "There are few urgent care options in today's healthcare space specifically for children," said Brian White, CEO of Urgent Care for Kids. "Urgent Care for Kids sufficiently fills this gap by ensuring children are treated by providers specializing in pediatrics with guaranteed after-hour access."
Urgent Care for Kids is the largest pediatric urgent care provider in Texas with a total of 10 clinics in Dallas-Fort Worth, Austin and Houston. Patients are seen from their infancy to 21 years of age. Families using any commercial or Texas specialty plan, including Medicaid, can check-in online, by phone, or walk-in to schedule an appointment. Since the practice's opening in 2011, Urgent Care for Kids maintains short wait time periods and help minimize the high costs of emergency room visits for urgent care needs.
"This is the second clinic acquisition by Urgent Care for Kids in the past nine months and is a part of its strategy to bring this service to markets all over Texas through construction of new facilities and strategic acquisitions," White continued. "It's our mission to continuously meet the needs of evolving communities with exceptional pediatric care and customer service. We look forward to serving the children and families in Alliance and greater Fort Worth."
For media inquiries, please contact Regional Marketing Director Christine Walsh at cwalsh@urgentcarekids.com.
About Urgent Care for Kids: Urgent Care for Kids has four Dallas-Fort Worth locations including Allen, Keller, McKinney and Frisco. Services and treatments include office visits and consultations, onsite lab testing for flu, strep throat, RSV and mono, urinalysis & bacterial cultures, x-rays & orthoglass splinting, laceration repairs, foreign object removals, minor burns, asthma-related issues, allergies, mild allergic reactions, skin irritations, conjunctivitis (pink eye), ear infections, head lice, animal bites and seasonal flu shots and sports physicals. For more information on clinic services, locations and hours, please visit www.urgentcarekids.com.
###