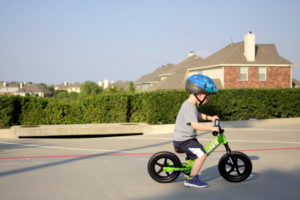 Bike riding is a great way to spend time together as a family and exercise at the same time.  But it's important to consider safety issues before hitting the road.
Most parents know how important it is to protect their kids' heads while they ride a bike.  Wearing a helmet should never be optional, no matter how short the ride will be.  Preventing serious head injury is easy with a helmet as long as some guidelines are followed:
Choose bright colors so that drivers and other people along the ride can easily see the child.
Make sure the helmet is well ventilated so that heat can escape.  This is especially important in the summer.
Look at the inside of the helmet for a sticker from CPSC or Snell.  CPSC (Consumer Product Safety Commission) and the Snell Memorial Foundation are non-profit organizations that test helmets for safety.
The helmet should be specific to bicycling.  Other helmets are available, such as skateboarding or baseball helmets, but those types of helmets will not protect the child appropriately when cycling.
Adjust the helmet so it fits properly.  If a helmet does not have adjustable components, don't buy it.  Here are some fit tips:
The helmet needs to sit level on the head, and it should not tip backwards easily
The straps should be strong and wide with a clasp under the chin
It should fit tight enough that sudden pulling or twisting won't move it around
Helmet use is just one part of being safe on a bike.  Here are some other helpful tips to stay safe on two wheels:
Always obey all traffic signs and ride with the flow of traffic, not against it.
Make sure cars, other cyclists, and pedestrians have seen all cyclists before crossing intersections.  Just like driving a car, it's important to be a defensive cyclist.  Passing driveways and watching for cars that are turning need special attention as well.
Don't ride too close to parked cars.  Doors can open suddenly if car passengers aren't aware of cyclists near the car.
When riding in a group, always ride single file on the street.  Using bike lanes and bike paths can provide extra safety, too.  Try to avoid riding on sidewalks when possible, except for very young kids.
Wear clothing that won't cause problems.  Long pants may become tangled in a bike chain if they are too loose.  Shoes should be hard soled and should grip the bike's pedals.  Flip flops, shoes with cleats, or shoes with heels should be avoided, and kids should never ride barefoot.
Make sure all bicycles are regularly maintained.  Check the tires for appropriate pressure, clean and oil the chains, replace worn brake pads, and adjust handlebars and seats as kids grow.
Bicycling is great exercise and a fun way to stay active as a family.  Set a good example for kids by demonstrating safety on the road and wearing a helmet.  Establishing these habits will help make them part of the family's routine for a happy and healthy summer.
-Dr Kristi Whitenton
Dr. Kristi Whitenton is a graduate of the University of North Texas Health Science Center in Fort Worth, followed by general pediatrics residency at the University of Texas Health Science Center at San Antonio. After two years of additional training in pediatric critical care, she became a medical director for Little Spurs Pediatric Urgent Care in San Antonio. In August 2014, she joined Urgent Care for Kids as the Medical Director for the Austin area. She is a fellow of the American Academy of Pediatrics and has a son attending Southern Methodist University in Dallas. In her spare time, she enjoys running, baking, and supporting the visual and performing arts.