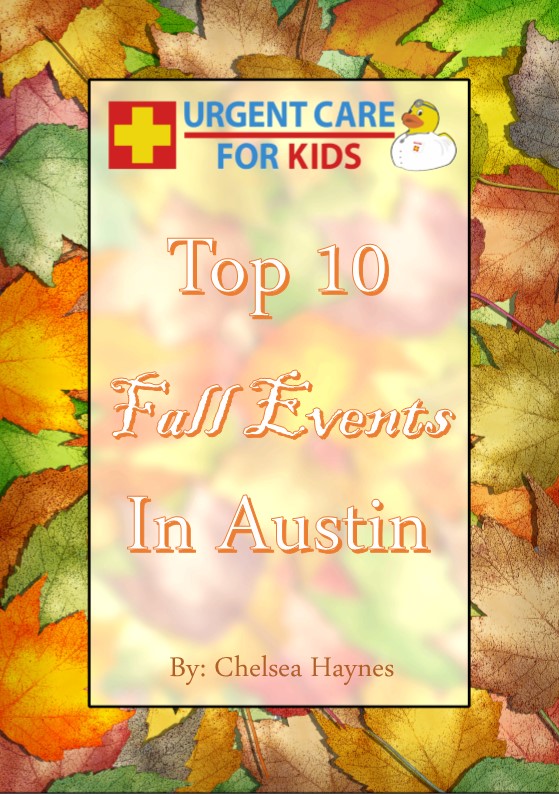 Fall is just around the corner, and the Austin area is buzzing with activity and anticipation of cooler weather! As a Mom, I'm always on the hunt for fun filled activities for my little ones to enjoy and Autumn is the perfect time to get outside and enjoy the community you're in. Whether you're a Hutto, Pflugerville, Round Rock, or Georgetown resident, I found something for everyone. Below are my top ten picks for fall events in the community
 1. Chalk Walk
Date: October  2nd – 3rd Time: 5pm-9pm/ 10am-7pm Cost: Free Location: 301 East Bagdad, Round Rock   Chalk Walk and Arts Festival has thousands in attendance with numerous vendors, sponsors, and artists. You'll also find chalk artists, musicians, vocal groups, theatrical performances, food and drinks, and children's performances.
 2. Pfamily Pfestival Expo
Date: October 3rd Time: 9am-3pm Cost: Free Location: Hawaiian Falls Pflugerville TX   There will be tons of Pfamily fun at the expo of Hawaiian Falls! From delicious food choices to vendors and live performers, there's something for everyone to enjoy.
 3. 8th Annual Pfall Chili Pfest
Date: October 17th Time:12p-5pm Cost: Free Location: Main Street Pflugerville TX   If you and your Pfamily like chili there will be 30-40 vendors serving their famous chili! Activities for adults and children include the Heat Wave Car Show, the Kids' Zone play area, a petting zoo, face painting, balloon artists and live music.
 4. Hutto Olde Tyme Days Festival
Date: October 17th – 18th Time: 5pm-8pm/ 8am-8pm Cost: Drive in Movie $10 a car or $5 per person walk in Carnival Wrist Band $15 Location: Downtown Hutto   A carnival, vendors, live music and a drive-in movie are just a few of the things you'll find at the Hutto Olde Tyme Festival. The Stampede 5K kicks off the celebration on Saturday at 7:45am and "Hippos on Parade" begins at 10am. Live music, vendors, food and fun on East & Farley streets all day long
 5. Touch A Truck
Date: October 24th Time: 9am- 12pm Cost: Free Location: Old Settlers Park-East Entrance, 700 N. Redbud Lane   Name a child who wouldn't love to climb aboard a fire truck, big rig or bulldozer! Touch a Truck provides a unique opportunity for children to explore vehicles of all types – public service, emergency, utility, construction, transportation, delivery and just plain cool – all in one place.
 6. Trunk Or Treat
Date: October 24th Time: 5:30pm- 7:30pm Cost: Free Location: 201 Seton Parkway Round Rock, 78664   Trunk or Treat is a new spin on Trick or Treating where local businesses and organizations bring a vehicle, decorate its trunk/tailgate and pass out candy as kids "Trunk or Treat" from car to car.  Trunk or treating allows kids to have all the trick or treating fun without crossing streets or worrying about safety.
 7. Annual Halloween Festival and Hayride
Date: October 29th Time: 5:30PM-8:30PM Cost:  $1-2 For Hayride, Free Movie in the park starts at 6:45pm Location: Community Center in San Gabriel Park, 445 E. Morrow St., Georgetown, TX 78626   Get ready for a night full of fun! Fun will include hayrides, a movie in the park playing "HalloweenTown" (rated PG) and trick or treating. Bring your bag for candy, and get don't forget to wear your favorite costume and enter the costume contest!
 8. Fall Fest Fun Monsters Mayhem
Date: October 30th Time: 9am-11:30am Cost: Free (Encouraged to bring a canned food) Location: Old Settlers Park   This Monster Mash themed festival will be filled with lots of monstrous activities for all of our little ghouls and goblins.  The festival will include lots of Frankenstein fun including carnival games, hayrides, refreshments, a story time and much more!
 9. Treats on East
Date: October 31th Time: 5:30pm-8pm Cost: Free Location: Downtown Hutto on East Street   This community alternative to neighborhood trick or treating is a great way to keep kids safe as well as have a little fun doing it! There will be games, trunk or treating and much more!
10. Hometown Halloween
Date: October 31st Time: 2pm-5pm Cost: Free Location: Downtown Round Rock   Downtown Round Rock knows how to put on an event and Halloween is no exception. The Hometown Halloween celebration is a great way to connect with your community, have fun with your family and best of all, have a stress free, scare-free environment. Hayrides, music, and trick or treating at local shops/restaurants included.
Meet the Author, one of our wonderful receptionists, Chelsea Haynes. Chelsea was born and raised in Austin and she is a true Austinite.  She is married to her best friend and a Mommy of two precious boys. When she's not helping to take care of the kiddos at Urgent Care for Kids, she's spending time with her family going hunting, fishing, or just enjoying the sunshine! She is currently going back to school to fulfill her dream of being a pediatric nurse.